Teachers share same name, but different experiences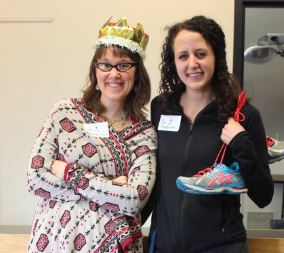 Smith. Johnson. Williams. These are the top three most common last names in the United States. It's overwhelming to think about how many people are connected through their last name  — a part of their identity. Last names hold significance because they differentiate and group people together at the same time. They define a person and how they're viewed by others.
Many teachers at St. Paul Academy and Summit School have similar or the same last names. For example, Upper School Science teacher Scot Hovan is oftentimes confused for US English teacher Matthew Hoven; US Science teacher Karissa Baker for US English teacher Adrienne Baker; US English teacher Emily Anderson for US Physical Education teacher Cari Jo Anderson.
While younger, incoming students have a harder time differentiating between two teachers, older, more experienced students distinguish teachers by their unique personalities and teaching styles.
ANDERSONS
It's Cari Jo Anderson's second year at SPA and she's still sometimes confused with English teacher Emily Anderson. Because the two teachers have different name prefixes and work in separate departments, it should be easier for students to differentiate between them. However, students still get them mixed up.
"There was one student last semester who kept saying 'Dr. Anderson' and I wasn't responding and then I realized 'Oh, he's probably trying to get my attention in class. I'm flattered but I'm not a doctor," Cari Jo Anderson said.
Cari Jo Anderson has even faced name confusion outside of school.
"I get asked frequently if I'm related to someone from Andersen Windows or if I know C.J. Anderson the football player. I have the exact same initials as him so people tease me about that. It's nice having a name people know how to pronounce but it's very common so when I'm in a large group setting, the chances of someone else being an Anderson is really great," Cari Jo Anderson said.
Cari Jo Anderson's maiden name was Hohncke (pronounced hen-key) – a very out of the ordinary last name. Although she enjoyed the unique nicknames that came with Hohncke, she is content with her current last name.
"[Anderson as a last name is] kind of nice… but the common question is 'is it -son or -sen?' I don't know, it kind of takes away the feeling of individuality but people usually call me by my first name outside of school," she said.
Emily Anderson doesn't mind sharing a last name with another teacher; in fact, she has actually enjoyed it.
"I used to be first on the faculty mailboxes and it was really hard for me to reach my mail and now I'm second down because she's Cari Jo and I'm Emily so she's made my mail easier to get," she said.
Emily Anderson's knowledge on her descendants has done the opposite of detracting originality from such a common last name. She discovered from her dad, who conducted some genealogical research, that the Anderson her family descended from tried to assassinate the king of Scotland in the 16th century.
"So the plot failed and so he basically jumped on a ship in the middle of the night and that's how he got [to America]. That's why I always joke that my distrust of authority goes back a long, long long way because my relative tried to kill the king," she said.
With such vibrant surname stories and experiences, Cari Jo Anderson and Emily Anderson are sure to leave an impression on students that will help them better discern between the two teachers.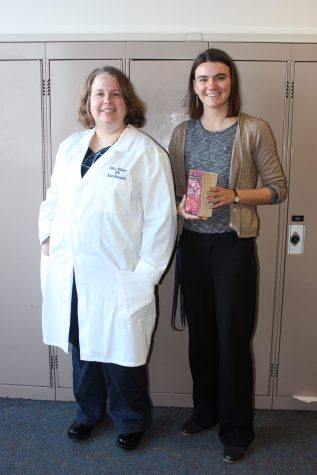 BAKERS
Adrienne Baker, a new English teacher this year, and Science teacher Karissa Baker haven't faced many problems getting mixed up with each other. Because they work in completely different areas of the school, they don't interact often.
"Our interface isn't quite as much but I have students and advisees who have both of us as teachers and so I imagine it's more confusing for them," Adrienne Baker said.
Its short and easy-to-pronounce last name makes Baker one of the most common surnames in America.
"Since she's been here this year, I think the one confusing thing is that we both teach ninth grade so some students have both of us as teachers so that's kind of confusing. But I think they've figured it out because nobody's told me there's been any issues with it," Karissa Baker said, when asked about any problems she's encountered at school.
Adrienne Baker inherited her last name from her father and the surname has been passed down through his family. Karissa Baker received her last name from her paternal grandfather. Adrienne Baker recalls how she identified with her last name when she was a child.
"When I was in fifth grade and learning how to bake cookies and stuff, I with that also being my last name," Adrienne Baker said.
Luckily, the two teaches don't have the same initials as that would complicate sending emails and other school-related tasks. Fortunately, the worst that mixing up names has gotten is when students wonder which advisory they're in. But, it becomes easier to differentiate between the two once they know Karissa Baker as the Science teacher and Adrienne Baker as the English teacher.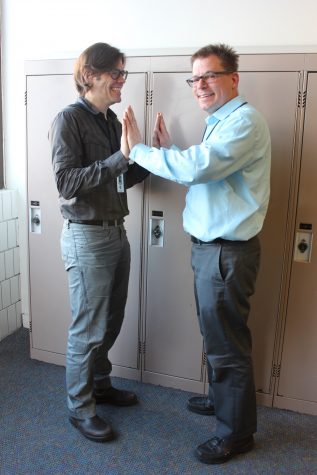 HOVEN/HOVAN
Scot Hovan and Matthew Hoven have distinct interests and teach very different classes, yet many people still mistake them for one another. Although they're around students more than students' parents, it's more common for parents to mix Hovan up for Hoven.
"Mr. Hoven's really into biking so [parents] were talking about bikes with me and I'm like 'just out of curiosity, why?' and they were like 'aren't you really into biking?' and I was like 'oh, you're thinking of Matt,'" Hovan said.
Hovan and Hoven came to SPA the same year. Both new to the school, they quickly bonded over their similar last names.
"I always enjoy conversations with [Matthew] so we get along really well. I think that it's cool to have somebody whose name is so similar because growing up, I never had anything like that. It's not a super common type of name so there's always been kind of a neat connection there," Hovan said.
Interestingly, both teachers have unique backstories that explain the origins of their last names.
Hoven actually embarked on a journey to countries like Belgium, Netherland, and Germany during his study abroad year to discover where his last name came from.
"I learned the origin of my name is a synonym for what we might call 'hamlet' which is a large piece of property probably owned by aristocracy. In Dutch there's a word, 'hovenier,' which is a gardener. So it's interesting my name is 'hamlet,' a large piece of property, a giant farm, which makes me think of my childhood – that piece of property, the Hoven," Hoven said.
In fact, Hoven grew up on Hoven Road and was surrounded by many Hovens, ranging from family members who worked in construction, to grandparents who owned property called Hoven.
"Essentially, my grandparents took over this whole piece of property and divided it into eight little five acre lots and they kept the center so it's like a little octopus," Hoven said.
Differently, Hovan's last name is of Hungarian descent. His grandfather was born in Czechoslovakia where the surname "Hovan" is quite popular.
"Growing up in Ohio, there were people who had Hungarian names in that part of the Midwest but since we moved here, we don't have as many influences of that background so [my name is] a little bit more unusual," Hovan said.
A distinct change that Hoven observes when a parent or faculty confuses him for Hovan, is that their behavior and mannerisms change.
"It's really interesting because [Hovan's] in physics and there's just so much more respect in our culture for science and it's interesting to see when someone has mistaken me for a science teacher and then they find out I'm an english teacher; there is a definite shift in their view of me. I can't describe it, [it's] like they have to rearrange their understanding of who I am," Hoven said.
Surprisingly, the surnames Hoven and Hovan are considered more common in Minnesota than other states, according to Ancestry.com. In such a large country, it's unbelievable that two teachers with such similar last names – both of European descent – work at the same school and are good colleagues. It's amazing how such a simple thing like surnames can bring people together.