Student actors' creative choices shine in As You Like It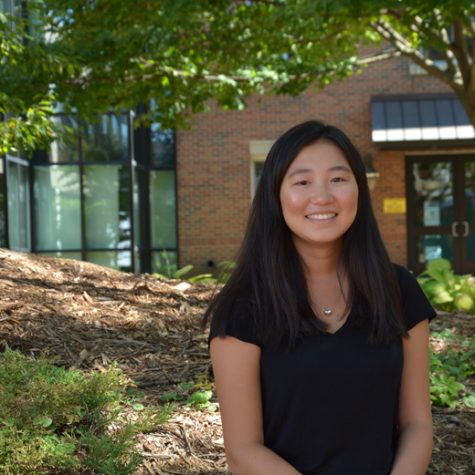 More stories from Stephanie Li
William Shakespeare is known for his dramatic and tragic plays, such as A Midsummer Night's Dream and Macbeth. But one of his most well-received plays, As You Like It, is a comedy that's unfamiliar to some.
Originally set in France, As You Like It follows Rosalind, Duke Senior's daughter, after she is banished from the court. Fleeing to the Forest of Arden with her cousin, Celia, Rosalind disguises herself as a man and comes across Orlando, a man who she then falls in love with.
Senior Soph Lundberg played Rosalind and junior Dorienne Hoven played Celia.
"[Rosalind and Celia] pretend to be different people because they're afraid of having harm done to them. So I pretend to be a [man] and for a lot of the show, [no one knows who I am]. The genders get confused for a little bit. I basically fall in love with Orlando and it's all about manipulating him," Lundberg said.
The play's complex plot and underlying themes shouldn't be surprising for students who have read Shakespeare before. But, everyone should have expected some confusing scenes with a distinct twist on acting style and language.
"The challenging thing is the language; that's the hardest part. Also the confusing plot; it's like a plot that comes out of nowhere," Lundberg said.
"
The challenge was trying to convey the meaning to the audience even when they don't understand what's being said but [the audience has] to understand the emotion behind it"
— senior Soph Lundberg
The cast took a modern approach to the play by setting it in 1920s America. Even though the play strays from its original setup, students directly recited Shakespeare and the plot and narrative were just as complex.
Every four years, the Upper School performs a classic which is different from other plays the school arranges. Adapting a classic play is a good learning experience for many students because they are exposed to a new performance style within the theatrical world filled with prose and verse.
"It's very convoluted and [there] a lot of dense language with outdated jokes. The challenge was trying to convey the meaning to the audience even when they don't understand what's being said but [the audience has] to understand the emotion behind it," Lundberg said.
Hoven admits that some of the time, she didn't understand how she should be feeling or what she was saying.
"[When we didn't know the emotion behind a word], we had to stop and pick apart certain words that we didn't understand. In some lines we didn't really know exactly how [the words]  fit in. I used the word 'hooping,' so I just had to put some sort of energetic emotion behind it to get the feeling [behind the word] and not actually the meaning of the word," Hoven said.
The play revolves around multiple character relationships, but one of the first relationships seen is the sisterly bond between Rosalind and Celia. Lundberg and Hoven's experience on stage makes them perfect for the two protagonist female roles.
"I like all the scenes I got to with do with Soph, like the one-on-one scenes, because we got to be dorky and energetic and I got to be very sassy and she got to be super sassy so we just had fun together," Hoven said.
All of Shakespeare's plays have some deeper meaning behind the bloody, satirical, and comedic plots.
"A lot of [the play] is Rosalind struggling to find her identity because she starts as a woman and then she dresses up as a man. As the play progresses, she becomes more comfortable as a man and near the end she's found an equilibrium. A lot of it is about challenging these gender roles. [The play] is talking about how identity isn't set in stone," Hoven said.
One of the most drastic differences between As You Like It and other plays is the blocking. Blocking is when the director determines where actors should move so that the lighting, visibility, and proper dramatic effect reflects what's happening in the script. In this play, the lines are more loosely interpreted so it's up to the students to decide how to portray their characters in a way that will connect with the audience.
"A lot of the shows I've done in the past, the blocking has been very set in stone…but with the new director, Hannah [Steblay], it was very 'Go with the emotion of the scene.' So she didn't block us. She would tell us if something didn't work and she would [suggest] something better, but it was really our emotions in the scene that guided where we moved which I think is really cool," Hoven said.
With all its complexity, As You Like It still has its laughs: "It's a comedy so there are a few fun little characters, like the court wit [who] has this very strange relationship with a country girl and they're super dorky. But I feel like the comedic parts of it are really what makes this show fun," Hoven said.
With themes of love, injustice, forgiveness, and inequality, students who went to see the play were sure to enjoy the songs, character development, and inspiring tale of a woman taking control of her destiny. As You Like It was performed on  Nov. 18-19 at 7 p.m. in the Huss Center.
Leave a Comment
About the Contributor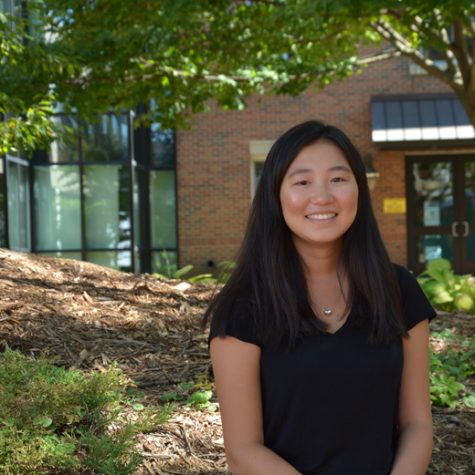 Stephanie Li, The Rubicon, Photo Story Editor
Senior Stephanie Li is The Rubicon's Photo Story Editor. Outside of the print room, she is an avid photographer and considers it a hobby of hers. Her...