Seniors get out of MN, take projects abroad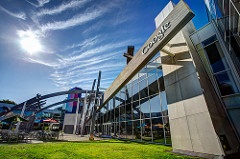 The Senior Project marks the last stretch of senior year. It's a chance for seniors to take advantage of their resources and step up to the plate of responsibility and independence. Seniors are required to experience a four-week mentorship or internship, along with being involved in community service and additional activities in May. The Senior Project allows seniors to focus on a specific goal and expand their interest in a topic, which may help them decide what they intend to pursue in college.
Some seniors will be doing their Senior Project out of state. This opportunity will give them more freedom to explore and discover new people and places.
Schavee shadows at World Health Organization in Austria
Someone who is traveling even farther away than Martinez is senior Peter Schavee, who will be by himself on the other side of the globe in Vienna, Austria.
"I'm connected with a doctor who does a lot of HIV and AIDS work over there with certain non-profits at the hospital," Schavee said.
Although Schavee speaks minimal German, he'll be able to use his English and communication skills when he visits non-profit organizations.
"A lot of [the non-profits'] work also now involves refugees who sometimes don't speak German but might speak English. They just need different languages there," Schavee said.
Schavee will also be shadowing a World Health Organization representative.
"I'm really looking forward to actually being able to go to Austria because I've never been there. And to see the WHO representative."
No matter where seniors go, they will gain experience in professional fields that will teach them problem solving, management, and organizational skills, just to name a few. Martinez and Schavee will achieve just that through their internships while getting a taste of a different culture and lifestyle in a change of environment.