STEM projects grow from curiosity
Although Advanced Topics and Advanced Science Research are two separate courses offered in the US Science department, they share some goals.
For one, students in both classes experiment with different aspects of science or engineering that pertain to real-world applications. Additionally, students explore the realm of STEM in more depth than they ever have before.
With big discoveries and moments of failure, students overcome adversity and keep moving forward.
ADVANCED TOPICS DUO WORKS TO INVENT SELF-SUFFICIENT WATERING SYSTEM
Juniors Rishi Bhargava and Humza Murad hope their idea can bring new light in the age of sustainability. The two are creating a self-watering planter that doesn't need water.
"For existing self watering planters, you still have to refill them, which sort of undermines the concept," Bhargava said.
The team wanted to take the idea to the next level.
"Rishi and I are creating a completely self watering planter that uses dehumidifying technology to draw water from the air," Murad said. "We used a peristaltic pump which uses pressure difference to move water from the dehumidifier reservoir to the plant reservoir."
Similar to a basic planter, the design has two shells so that the water can seep into the soil.
"There's also a soil moisture sensor inside the pot that's connected to a pi portal which is human controlled," Bhargava said.
Not only is the planter self watering, but it's also completely self sufficient.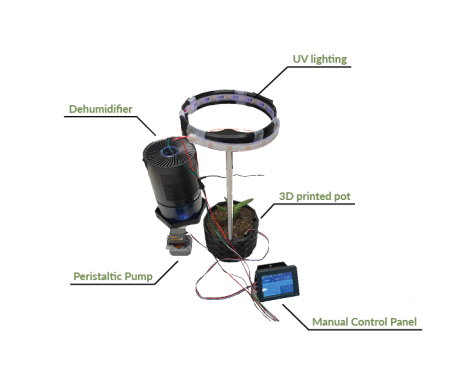 "We have light that's provided by a UV strip. Essentially you can leave this anywhere you want for any amount of time and it will be able to survive without any human interaction."
The process of building such a complicated project meant obstacles were inevitable.
"Our biggest challenge throughout the process so far has been dealing with the pump. We 3D printed many versions, but the resistance would always be too much because the material was too hard," Murad said.
The duo found a solution at a well-known online store: Amazon. Although they opted to venture on an easier route by buying the pump online, it has given them an anecdote to hold onto as they continued their project.
"It taught us that we didn't always need to over-complicate things," Murad said.
The design is still in progress, but the two aspiring engineers hope to bring this project to the Regeneron International Science and Engineering Fair in May.
HENRY CHOI'S ADVANCED SCIENCE RESEARCH PROJECT at U of M EXAMINES CANCER CELLS
Junior Henry Choi's project for Advanced Science Research involves inhibiting a receptor protein in a cancer cell crucial to its invasion.
Not unlike Murad and Bhargava, Choi had to overcome challenges.
"I don't even know where to start," he said. "At the beginning I had to redesign my project five times."
Additionally, Choi had to reach out to the University of Minnesota for lab space.
"Our school has a bio safety level one lab which means I can't bring a cancer cell in or it will probably just die," he said.
While he can be in the lab, Choi is still awaiting final approval and isn't allowed to handle the cells yet, but he hopes to be able to continue his research on a topic that is particularly meaningful to him.
"I always wanted to do something in cancer research. My grandmother died from cancer before I was born. She seemed like a pretty cool person," Choi said.
"
I want to be able to contribute to a field where a lot of people need help.
— Henry Choi
His ambitions for the project spread farther than the classroom.
"I want to be able to contribute to a field where a lot of people need help," he said. "I hope to verify the viability of the inhibition drug (cabozantinib) and see if it could get FDA approved for breast cancer research."
Choi noted that the drug is approved for liver and kidney cancers.
Choi plans to continue his research through next year in the hopes of developing a deeper understanding of the science that may one day change cancer rates.
Q&A: BECCA RICHMAN RESEARCHES IMPACTS OF LIGHT
Q: What is your ASR project?
A: My project is on the impact of light intensity and color on variegation quantity of pearl and jade pothos.
Q: What do you hope to achieve?
A: I hope to find the ideal indoor light environment to promote variegation, an aesthetic trait that is highly valued by consumers.
Q: What are some challenges you've encountered?
A: One challenge I've been dealing with is that the blue light I am using failed halfway through my experimental phase so I am figuring out how to recreate that next semester.
Leave a Comment
About the Contributor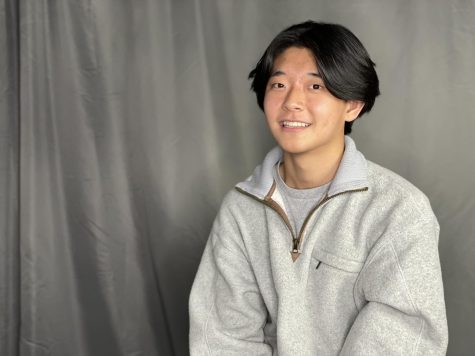 Orion Kim, Chief Visual Editor
Hi I'm Orion Kim, the Chief Visual Editor of The Rubicon. This is my third year as a staff member. I've previously served as the Sports Editor and...