Scientists find success at Twin Cities Science Fair
Advanced Science Research or Advanced Technology Projects students participated in the Twin Cities Regional Science Fair Mar. 5, marking the first time the Fair has returned in person since 2020. Fourteen students from SPA were involved in the highly anticipated contest in hopes to contend for the International Science and Engineering Fair. The students have been working all year on the 13 research projects they presented.
The full list:
Gabriel Bangoura (12): The Effect of Electricity on Plant Growth
Rishi Bhargava and Humza Murad [Paired Project] (11): Project WASP: Watering Atmospheric Self-Irrigating Planters
Henry Choi (11): The Effect of Gefitinib on Cell Proliferation and Invasion in 2D and 3D Cultures of MDA-MB-231 Cells
Julia Colbert (12): Teeth Cleaning Chewing Gum
Maryeva Gonzalez (12): The Effect of Temperature on the Accuracy of Caffeine Extraction
Calvin He (12): An Analysis of Saxophone Pad Degradation and Quality After Exposure to Human Saliva
Yash Kshirsagar (12): The Effect of Varying Concentrations of Titanium dioxide on the Movement of Caenorhabditis elegans
Rita Li (11): The Effects of Music Lyrics on Memory
Aaron Lindeman (12): Creating an Environmentally-Friendly Dry-Erase Ink Composition
Aryun Nemani (12): The Effect of Varying Solute Concentrations on Quorum Sensing and Bioluminescence within Vibrio fischeri
William Richardson (11): Studying the Impact of Microplastics on Quinoa Growth
Becca Richman (12): The Impact of Light Color on Variegation Quantity of Epripremnum Aureum
Cassandra Zirps (12): The Effects of Education on Perception of Advertising
Junior Will Richardson's project studied the impact of microplastics on the growth of quinoa plants.
Richardson said, "It went really well across the board and it was nice to see people get awards."
Senior Ayrun Nemani had a very successful weekend bringing home the Stockholm Junior Water Prize for his study of how salt affects the glowing of bacteria: "Although my results came back inconclusive, I still had a great time and got to win something."
Another senior, Aaron Lindeman, went on to attempt to make his own environmentally safe dry-erase ink composition: "First I did extensive research on dry erase, [and] how it's made. I looked at what could make it safe," he said. "I then did testing using qualitative data and repeated the experiment six times. I ended up getting three awards."
The students headed on to national and international competitions are Richardson and Henry Choi. Richardson will be presenting research at the National Junior Science and Humanities Symposium in Virginia Beach Apr. 12-15. Choi will be presenting his work at the Regeneron International Science and Engineering Fair in Dallas May 13-19.
In addition to Choi and Richardson, Lindeman, Rishi Bhargava and Humza Murad were named as alternates for ISEF.
Gabriel Bangoura, Rishi Bhargava and Humza Murad, Henry Choi, Julia Colbert, Calvin He, Yash Kshirsagar, Rita Li, Lindeman, Richardson and Becca Richman will all move on to compete at The Minnesota State Science and Engineering Fair will be held during spring break at the St. Paul River Centre on Mar. 24.
Leave a Comment
About the Contributor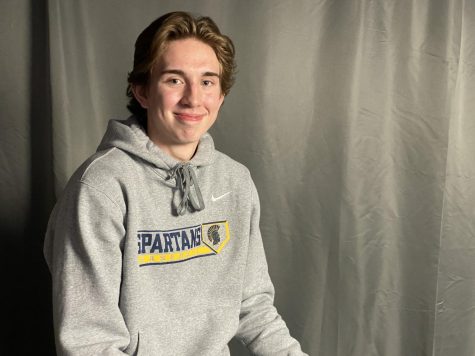 Nelson Wodarz, Sports Editor
I'm Nelson Wodarz, Sports Editor for RubicOnline. I worked as a Staff Writer last year. In my free time I enjoy playing hockey and baseball, watching sports,...