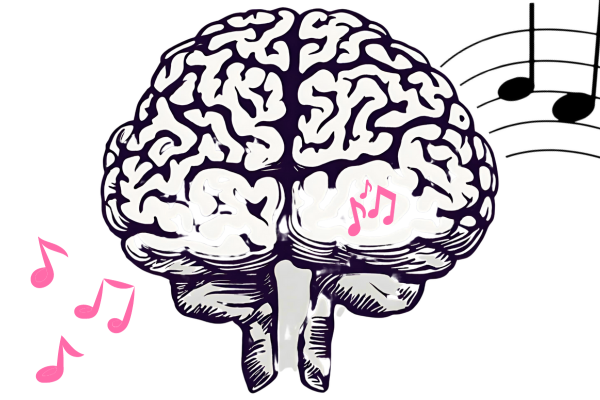 Music often evokes all too familiar feelings. Beats, note progressions, vocals, production– all elements of musical sound can enhance the very act of feeling. Play a sad song and become sadder. Play an upbeat one, and become hyped.
Not only can music make one feel emotions in the present, it also has a unique power to recover experiences in the past. Songs attach to memories and become a reminder of previous events and emotions.
Many students identify music as an essential emotional outlet– but why does this strange connection between hearing and feeling exist?
Linking music and emotion is not a new development, scientists and scholars have made note of it since ancient times, and it all goes back to the brain.
According to neuroscientists at the University of Central Florida, humans react to music in all parts of our brains.
"Each aspect of music reacts in different regions of the brain," senior Delaney Devine said. Devine researched the neurobiology of music for her neuroscience class.
There is an old cliche surrounding the "left" and " right" sides of the brain and how they relate to information processing and creativity. Although mostly a myth, there is some truth to this in how the brain reacts to sound.
The brain is divided into the right and left hemispheres, with the interpretation of lyrics and words occurring in the left, and the appreciation of sound in the right.
The temporal lobe region of the brain sits above the ears in both hemispheres and is referred to as the "language center." This region processes lyrics and allows humans to analyze their meaning, turning them into stories, phases, and metaphors with a temporal lobe subregion called Wernicke's area.
Sophomore Elliot Sjaastad finds that music affects his attention.
"I just feel like it's great for helping me stay focused when I get studious and when I am behind the wheel," said Sjaastad.
Not only does the brain react to listening to music, but learning to play music can alter the way a brain works.
"Learning to play music shapes both brain structure and brain function," Devine said in her presentation.
Music has more power than it is often given credit for. The brain stores sound and can be a helpful tool in retrieving information.