MSA raises support and awareness through bake sale
The Muslim Student Alliance group hosted a bake sale on Oct. 26 in the lunchroom, and all the proceeds went to Islamic relief in the United States. Presidents of MSA, junior Mashal Naqvi and senior Iya Abdulkarim, answered questions about their bake sale and what they hope to accomplish.
Naqvi spoke about why MSA hosted a bake sale: "MSA hosted this bake sale because we felt that the Rohingya Muslim crisis needed attention and that we could help bring some relief to the population. The Rohingya Muslims have been persecuted in Myanmar since 2016 and furthering the problem, many of the Rohingya have become refugees and are fleeing to Bangladesh which is already overpopulated and lacking in resources," Naqvi said.
In order to help out Muslims from Myanmar, the MSA group decided that they were were going to do what they could to support them.
Naqvi stated her hopes, goals, and any effects their bake sale had on the community.
"I don't think that the problem is solely within our community. One of our main goals in MSA is to educate. Part of the reason we had this bake sale was to help bring awareness to this event that many people in our community were oblivious too. We hope that this bake sale helped, in some way, to bring more of a wider worldview to our community in SPA; however, I think the larger problem lies outside our community with the lack of news coverage that certain events and groups of people receive," Naqvi said.
In order to educate this community, MSA used the bake sale to widen the SPA community's worldview.
"
We hope to provide aid for these people in any way possible."
— Mashal Naqvi
Additionally, Abdulkarim spoke about some of MSA's other goals for this year.
"We started the year with aspirations to think about Muslims globally, not just based on the experiences of students in our school. The Rohingya refugees was an example and we felt that we had the resources and opportunity to raise awareness and funds," Abdulkarim said.
In order to paint a bigger picture, MSA set their goals early and are following through on those goals.
Leave a Comment
About the Contributor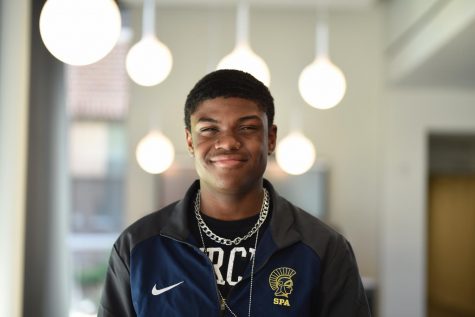 Tristan Hitchens-Brookins, Podcast Editor
Tristan Hitchens-Brookins is one of the members of the Interactive Storytelling Team at RubicOnline. This is his third year on staff. Tristan's philosophy...