More than nuts and bolts: SPA hosts the first FTC robotics tournament in school history
A group of 30 people circle the small rectangular mat. They scream and cheer, their eyes fixated on the course the whole time. The people who stand closest to the mat, inside the red tape lines, seem to be able to completely ignore the chaos that surrounds them, putting all their energy into the remotes that control their robots. This is what a typical league play meet looks like for SPA's robotics team. On Wednesday, the team had their first meet of the year, which also happened to be the first meet SPA has ever hosted. This year the team switched to a new competition format where instead of having a few big meets later in the year to qualify them for state, they now have small meets once a month.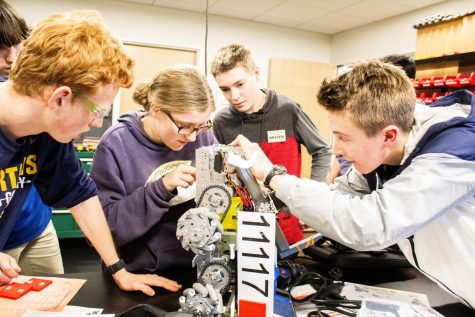 "The qualifiers that we did last year, the first one wasn't until late November or even December, so the teams really didn't feel that sense of urgency. Part of the reason we wanted to do league play is so students would have more frequent and earlier benchmarks of their performance which seems to already happen. This year they had driving robots way before they did last year. They've got autonomic code that's running way before they did last year. I think we're already seeing a higher performance in our robots which is great," Design and Innovation Specialist Kirsten Hoogenakker said. 
Not only do the more frequent meets require students to build their robots earlier, they also give them a chance to compete in a more relaxed environment. Junior Michael Moran joined the robotics team in his sophomore year. He did notebook entry for the meet on Wednesday which consists of cataloging the team's process during the meet to make sure everything they're doing is important to their robotics design process. Moran likes the new competition format they're doing this year because it lets students focus on their robots.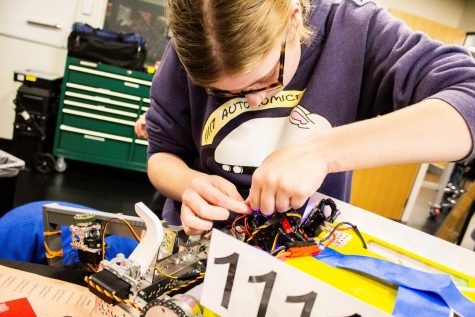 "There's no judging, and there's no notebook component. This is purely scrimmages basically. At actual robotics competitions, a thing called the notebook plays a significant part of it, and it's sort of to balance it out so it's not just the teams with the most money. For this, it's purely just competition; Who can score the most points? Who can win the most matches?" Moran said.
Despite the competitive nature of robotics tournaments, the robotics team strives to be a safe and welcoming environment to everyone. Junior Miranda Bance has been on the team since her freshman year. Bance's favorite part of the robotics is the team's atmosphere.
"It's just a lot of fun no matter what's happening. Sometimes things are very hectic. Earlier one of our cables came out and got stuck under a wheel, and that was very hectic, but it was also very fun because it's a very constructive atmosphere. Other times we really just get serious and get work done, and that's also very fun," Bance said. 
The team placed third overall out of nine teams at the meet on Wednesday. Their next meet will be in mid-November.
Leave a Comment
About the Contributors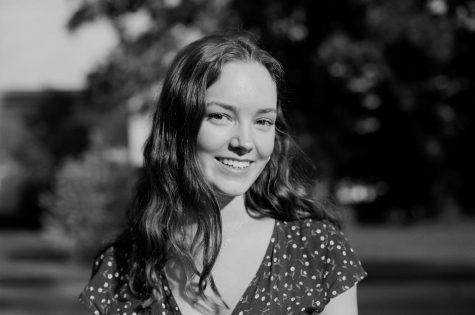 Liv Larsen, Feature Editor
Liv Larsen is a Feature editor on RubicOnline. This is her fourth year on staff. She has been staying busy during the pandemic by watching (too many) movies,...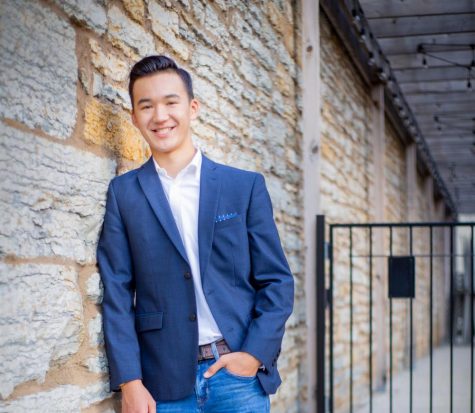 Nikolas Liepins, Political Correspondent/Contributor
Nikolas Liepins is the Political Correspondent and a writer/(photo)journalist for The Rubicon, RubicOnline, and Ibid Yearbook. This is his second year...