Incoming US Principal Theresa Collins talks goals and inspirations
In late February, Theresa Collins was appointed as the St. Paul Academy and Summit School's next Upper School Principal. Collins has been an English teacher for the past 27 years, working at a variety of different schools located in Illinois. Most recently, Collins is working as the Chair of the US English Department at the Francis W. Parker School in Chicago.
Choosing Education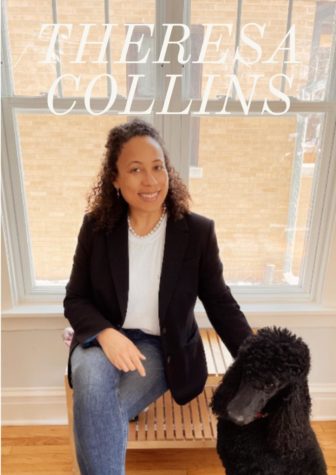 Collins is a life-long Midwesterner and English language lover. Growing up in Evanston, Illinois, Collins did not initially plan on becoming an educator. However, with support from her teachers and a continuous exposure to working with children, the idea started to grow on her. Collins said, "I had a lot of interesting experiences. I was a swimming teacher for young kids, a camp counselor and a senior leader in my school's P.E. program so I got to work with a physical education leader to help them teach freshman P.E. classes. One of the teachers, Mr. Blickenstaff [diving coach] told my dad at parent-teacher conferences 'I think Theresa would be a really good teacher. She's just really good with the kids and even though she's only three years older than the freshman they really listen to her' and it was a huge compliment at the time."
With these words at the back of her mind, Collins entered college aspiring to work in a field involved with children- not a teacher like Blickenstaff had recommended, but an adolescent psychologist and analyst. However, walking into her first lecture class at college, Collins knew something wasn't right. "I got dropped into this big giant lecture class. I was not so good in that class setting so I dropped out of that class and surly thereafter I took a couple of literature classes but I also took an educational leadership class," said Collins.
Then and there, Collins realized that Blickenstaff was right: teaching was her thing. By junior year, Collins had settled on becoming an English teacher; the combination of English and teaching, two things Collins loved most in this world, created something magical. "I don't know what it was about the combination of those experiences but because I always loved English while I was a student, I thought teaching high school English would be amazing," she said.
"
My joy of my professional life has been working with high school students and being an English teacher has shaped who I am in a lot of significant ways."
— Collins
Now 30 years later, Collins has nothing to regret. She said, "I've had so many fantastic opportunities to work with my students. That work has been really important to me because it's really introduced me to not only a lot of amazing educators from around the country and the world but it has really broadened my vision and my sensibility around what education is and what it can be. My joy of my professional life has been working with high school students and being an English teacher has shaped who I am in a lot of significant ways."
And involvement in education might as well flow in Collins's genes. Collins went on to get a Bachelor's degree in Secondary English Education from Miami University, a Master's degree in Humanities from Northwestern and a certificate in Advanced Educational Leadership from Harvard University. Not only did she end up marrying her college sweetheart Chris Collins, who is a dean at the University of Chicago Booth School of Business, but one of her two sisters is also a dean at the University of Minnesota's Humphrey School of Public Affairs.
In the Classroom
Collins started off her career with a job at her alma mater Evanston Township Highschool. ETHS is a large suburban school north of Chicago with over 3000 students. Not only did she work as an English teacher there, but she eventually started to take on leadership positions with the educators. After 13 years at ETHS, Collins joined the Francis W. Parker School in Chicago where she has also served as the US English Department Chair. For the past 5 years, Collins has also been working closely with the Progressive Education Network where she served as the president until 2 weeks ago.
Simultaneously teaching and working with educators has led Collins to find her strengths. She said, " I started gathering a lot of experience while supporting and leading teachers. And in terms of the work I've done, leading workshops for teachers, designing conferences for teachers, it's just my sweet spot. I love working with my adult colleges who care just as much as I do about adolescence, adolescence development, learning and really bringing an engaging experience to all of the students that we have in front of us. I'm ready to leave the classroom but I'm not ready to leave high school yet."
This realization led Collins to apply for SPA's opening US Principal position. With her 27 years of experience in education, Collins is ready to move on. She said, "A friend of mine who is actually a school leader at the Blake School knew that I was looking and he encouraged me to apply. So I started really researching the school and just seeing the many connections that exist with SPA's philosophy with the different modes of teaching and learning that are visible on the website but that I could also hear from a meeting with the faculty. I'm interested and ready for this change I'm gonna make. "
While visiting the campus, Collins was most mesmerized by SPA's faculty-student relationship. She said, "SPA strikes me as a school that has the student experience at the heart and that takes the student voice seriously. It's a place that cherishes the educators who work with students and is really proud of the work the teachers do with and for students. So there's a liveliness there in terms of the partnership I see existing between the teachers and their students within the community. Everyone's working together to create an amazing experience in education and that's really at the heart of what I believe about education. That is why I was really really interested in becoming part of the community here."
On top of that, Collins was also impressed with the facility and resources. "I was amazed at the space. I mean the school I work at right now is also a K-12 school and we are all literally in one building so it was so delightful to go to the Lower School campus and check out that space and then come to the middle and high school campus; it was just massive. I was struck by the light coming from the giant windows, I hung out in the painting studio for a little while and I dipped into the publications office and there was a Valentine's exchange going on. I went into the auditorium. It's just beautiful and I felt like I could've spent hours just wondering around and figuring out my way around the building."
"
When we talk about diversity or when we talk about equity, what do we mean? Where do we need to do a little bit of work as a community?"
— Collins
One thing Collins is ready to plug into right away at SPA is diversity, equity and inclusion work. She believes that diversity, equity and inclusion should be reflected in the curriculum and staff. But as of now, she also has more questions than goals. "One of the things I'm always interested in learning about at a school community is what does diversity mean in the context of the community? If I'm just thinking about the word itself diversity means difference. I've heard from the students, faculty and parents that we could be taking a look at the curriculum and interrogating the extent to which the questions and content of the curriculum are providing windows and mirrors of the experience and reflect the diversity of individuals in the school community and also the world. I think too, what kinds of conversations can we be having? When we talk about diversity or when we talk about equity, what do we mean? Where do we need to do a little bit of work as a community? I'm not gonna walk into the door with a list of changes that must be made immediately, but my style is more to get a sense for the voice and really listen and observe the community as it lives and breathes."
Collins is extremely excited to be joining SPA next fall. At the same time, she also feels a little nervous. She said, "It's nerve-wracking but I think if I wasn't nervous about the opportunity, there might be something wrong with me. Every year for the past 27 years I've stepped into my classroom on the first day of school I'm always nervous. But I think that just means I care and I do."
From Chicago to St.Paul
Besides work, Collins also has a very active personal life. Some of her hobbies include cooking, gardening, and spending time with her two daughters and poodles. She said, "I'm a pretty avid walker and I live pretty close to lake Michigan so I love walking my dogs next to the lake. But closer to the home, I have a vegetable garden and I have a really nice perennial garden. And I love love love to cook. Every year I have this cooking exchange party. Everyone brings cookies and I'm talking to all these people but I'm just making sure everyone's having a good time. So I love to entertain. I also love when my daughters make me Spotify playlists because I feel like it helps keep me in touch with the latest music. They have very eclectic tastes. But my daughters introduced me to The 1975 and they are one of my favorite bands. I thank my daughters for that."
Although Collins has been based in Illinois for most of her life, she is not completely foreign to Minnesota either. Besides her connection with a Blake School leader, Collin's sister Catherine, nephew Will and niece Helen live just a mile aways from SPA. Her brother-in-law Bryan has also been a part-time umpire for some of SPA's baseball games. Collins has also scoped out enough of St.Paul to be familiar with some parks, events and restaurants. She said, "My favorite place to go with my sister is Augustine's for brunch. My nephew Will is a graduating senior and we love walking down the Mississippi River to check out the falls and we walk all the way up to Dunn Brothers. I also love the Schuler shoe sale cause I get great winter boots there."
But if there's one thing Collins is going to miss the most about Illinois, it would be the weather. "I'm a little intimidated by the thought of Minnesota winters. My daughter Ada and I got stuck up there maybe 2 years ago in April. I mean we were up there for spring break and we got snowed in and stuck in April," said Collins.
Collins will be officially joining SPA on July 1, a few months before the winter season hits. Hopefully, this will give her sufficient time to become more accustomed to Minnesota weather and life.
Leave a Comment
About the Contributor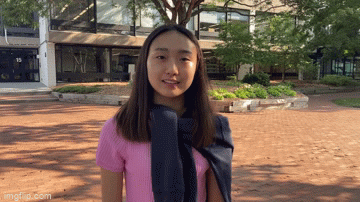 Elle Chen, co-Director of RubicOnline
Elle Chen (she/her) is a co-Director of RubicOnline. This is her fourth year on staff. Over the summer, Elle interned at NSPA to help plan journalism conventions,...