In the aftermath of a strong season, Math Team rebuilds
At the last spring recognition assembly, the math team walked down from the bleachers to hoist their trophy for first place in Tier 2 of the Minnesota High School Mathematics League. The team has changed since then, but its mission and dedication haven't.
"Every single one of the seniors on the team last year was unusually strong so it's definitely going to be a setback. But there's no reason I think that that should prevent us from going to state, especially if everyone puts in time," senior captain Vittorio Orlandi said.
They have put in the time, evidently. The team won its first competition of the year, on Nov. 4 at Minnehaha Academy, by a margin of four points. The scoring team consisted of senior captains Vittorio Orlandi and Lucy Li, juniors Brian Heilig, Sandhya Ramachandran, Neerja Thakkar, and Eliot Tong, and sophomores Michelle Heilig and Milo Wittenberg.
"I'm aware that there were instances in which people did not do as well individually as they had hoped. But as a whole, it was a strong start and the team is aiming to do even better next tournament," Wittenberg said.
The team competes in both collective and individual events, ranging from algebra to precalculus. Competitions take place during the week, immediately after school. The scoring team, which competes in the group event, consists of eight students selected by the team's advisor, Upper School mathematics teacher Bill Boulger.
"Mr. Boulger gives us a list of the topics with their explanations and… practice problems. Not everyone [does them], but those who want to can and it definitely helps to be more prepared. During Thursday groups he teaches different things we need to know," Orlandi said.
On the day of a competition, the team leaves school around 3:15 p.m., and the meet starts around 3:30 to 4:00 p.m. Tournaments are divided into fast-paced 20 minute sections, with answers posted between rounds.
"It is really frustrating when you see you made a silly mistake or should have gotten something, which happens often. However, the math and spirit of competition can be fun, especially in and after the team events," Thakkar said.
While the team has a long road ahead of them to duplicate last year's state title, their early victory means that they have at least taken the first step.
"It went well, we won, most of the mistakes we made were trivial, and the team event went more smoothly than perhaps expected. SPA is still the champion," Orlandi said.
Leave a Comment
About the Contributor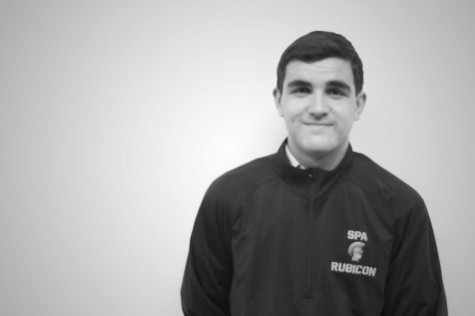 Thomas Toghramadjian, Columns Editor
Thomas Toghramadjian is a senior at St. Paul Academy and Summit School. He is currently in his fourth year on The Rubicon's staff, in the position of Columns...