Fewer mentors is a long-awaited change
The mentor-mentee program will benefit sizably from a tighter selection process.
Noah Raaum, Creative Design Manager
September 15, 2019
The mentor-mentee program has a rocky history. The Upper School Council's initiative to pair every new high schooler with a junior or senior has seen some success, but is in need of a fundamental change. In the past, nearly every student that signed up to mentor would become a mentor, so long as the number of mentors didn't exceed the number of mentees. This year, USC is tightening the reins on mentors by cutting down the number substantially and being more cognizant of the needs and interests of mentees.
"
One of the program's largest weaknesses was that mentors were failing to keep up with their duties—chiefly, showing up to mentor-mentee meetings."
One of the program's largest weaknesses was that mentors were failing to keep up with their duties—chiefly, showing up to mentor-mentee meetings. These meetings, scheduled every couple months, gave the mentee a chance to meet with their mentor in person, ask questions, and discuss the course of 9th grade. While most mentors participated, there were a handful of no-shows, which had a profound effect on the relationship mentees had with their mentors.
In theory, a mentor is a 9th grader's first contact for high school advice, but the reality of lousy mentors corroded the program's efficacy. The program also helps bridge the gap between upper and lower classes, but when mentors aren't fully invested, it damages 9th graders' perceptions of the upper classes.
With a smaller, more carefully selected group of mentors, the Upper School Council can communicate with them more easily and enact punishments when mentors fail to participate. However, with this change, the average 9th grader must "share" their mentor with another two to four mentees. This might make the experience less personal, but USC has decided that it's a price they're willing to pay for better accountability.
The change's main opponents are juniors and seniors that were turned down for the chance to mentor. This year, less than a third of mentor applicants were accepted. However, USC's co-Vice Presidents Nikolas Liepins and Rashmi Raveendran assure students that the pairings focus on interests and personalities, not predicted accountability.
The Upper School Council, whose members collaboratively make the pairings, base them off of survey responses sent to 8th graders in the spring. Prospective mentors also complete a similar survey. Then, the council figures out who is most compatible. At the end of the process, the council decided on 31 mentors. Female-identifying mentors, excepting one, have three mentees each, while male-identifying mentors have four or five. This is a drastic change from last year when the average mentor had two mentees.
USC hopes that this change benefits the program and fosters stronger relationships. It might disappoint students hoping to exercise leadership skills as a mentor, but is a much-needed decision in support of the wellbeing of mentees.
About the Contributor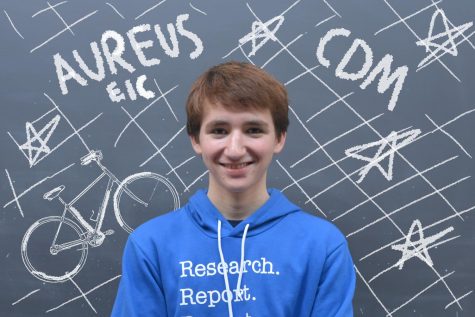 Noah Raaum, Aureus Editor-in-Chief
Noah Raaum is the Creative Design Manager of RubicOnline and the Editor in Chief of Aureus feature magazine. This is his fourth on staff. He is excited...