Everyone should learn about world religions
Religion plays a pivotal role in connecting with others, building community, and establishing morals for many people worldwide. So, why do most Americans fall short of a basic understanding of world religions and their key foundations? The simple answer is a lack of awareness and education, and an inability to recognize the many issues that stem from religious ignorance. The prevalent gaps in religious knowledge in society today have made one thing very clear: everyone should be taught more about world religions.
At SPA, students get an introduction to religion and philosophy in a brief unit in the required World History I course in their ninth-grade year. After that, unless they get into a section of the highly sought-after World Religions elective their senior year, there are very few opportunities to learn about and engage with global religions in the curriculum. While SPA is not a religiously affiliated school, this does not excuse the fact that many students lack a basic understanding of religions other than Christianity. Religion intersects with so many other subjects and because of this, opportunities for building a better understanding of world religions can and should be built into the curriculum of classes available to all grade levels, whether in the pre-existing history elective or in a focused literature class.
"
Teaching about religion and the many dimensions of world cultures from an unbiased and non-persuasive lens is essential to a multicultural curriculum. "
While opening opportunities for all students will help combat religious ignorance in our community, educating on these topics is not just an SPA obligation. The general disregard and lack of knowledge about world cultures and religions, particularly those that are non-Western, needs to be dealt with on an individual level.
According to a 2019 survey conducted by the Pew Research Center, few Americans could answer fundamental questions about religions like Judaism, Buddhism, and Hinduism, and most did not know what the U.S. Constitution says about religion as it relates to elected officials. The misunderstanding of such non-western religions and the relationship between church and state creates ignorance and both social and political divides.
Religious education is a highly debated topic, as there is a fine line between educating people on a religion and its core beliefs and forcing those beliefs onto others. However, the value lies in the fact that teaching objectively about the historical past, core values, practices, and traditions of a religious community can lead to mutual understanding, respect, and social cohesion. Teaching about religion and the many dimensions of world cultures from an unbiased and non-persuasive lens is essential to a multicultural curriculum. Whether an individual themself practices a religion or not, understanding religion as a key part of cultural communities around the world helps undermine religious polarization and bigotry and expand on Western-focussed perspectives.
This spring, as many religious holidays like Easter, Ramadan, Passover and Eid are crossing over, there is no better time to learn and teach about the implications of religion. Luckily, seeking out information is very simple. In addition to the countless accessible documentaries, videos, and articles out there for public awareness and education, interfaith dialogue can help increase general understanding of other religions. Reaching out to a friend, peer, or even affinity group leader about a religion they practice is an incredibly easy way to connect with others and learn about religious traditions.
Leave a Comment
About the Contributors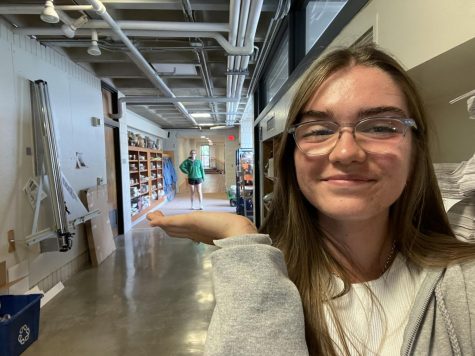 Ali Browne, Production Manager
Hi! I'm Ali Browne, and I'm the Production Manager for RubicOnline. This is my third year on staff and in the past, I have been the feature editor and...
Mimi Huelster, Illustrator
Mimi Huelster is the Illustrator on RubicOnline. This is her second year on staff. While in self-isolation, you can find her drawing, making toast, and...