Collaboration between religion classes and affinity groups brings diverse angles
The information we gain from classes is incredibly valuable, but students should always seek to expand the scope of their knowledge. In the World Religions class offered to seniors as an elective, taught by US history teacher Ben Bollinger-Danielson, students learn about the aspects of different religions and the rich cultural pasts that define them.
With expanding religious affinity groups, collaboration with students in a World Religions class could spark interfaith dialogue and encourage the exploration of religion from both a personal and intellectual angle.
The class already invites many speakers to teach students about different traditions. The speakers introduce themselves and hold an open discussion about their respective religions with the students, answering questions and describing experiences.
"
I think it is important for students to get comfortable and more skilled in participating in religious discussions."
— Ben Bollinger-Danielson
"I think it is important for students to get comfortable and more skilled in participating in religious discussions and it is important for students to understand the rich diversity of ways that people are living in such complex traditions," Bollinger-Danielson said.
Students who took the World Religions class this fall found the sessions to be helpful, but the opportunities presented could be enhanced by bringing student affinity groups in. Since the speakers invited were mostly adults, having a younger perspective could promote a deeper connection and a better sense of understanding among peers.
In addition, religious experiences can differ with age, and having affinity groups participate in the class brings a broader range of information.
Finally, collaboration could shine a spotlight on affinity groups and increase student engagement in the community. Senior Mashal Naqvi, who was a part of the World Religions class this year, weighs in.
"It would give insight into the types of religions and religious affinities that exist within our school, which I think the greater community can sometimes be oblivious to if they are not a part of it," Naqvi said.
"
The greater community can sometimes be oblivious … if they are not a part of it."
— Mashal Naqvi
Affinity groups have organized events to reach out to the community in the past. For example, the Muslim-Student Alliance (MSA) has engaged students with the annual Hijab Day, where they invite female-identifying students to wear and experience the hijab for a day. HerSpace hosts activities for International Women's Day.
Of course, it is up to the affinity group if they would like to participate in any possible collaboration. It is not their responsibility to shoulder any educational burdens — that responsibility rests on the educator.
However, if they so choose, inviting religious affinity groups to assist in educating their peers and sharing their religion could further the conversation and foster a stronger community.
About the Contributor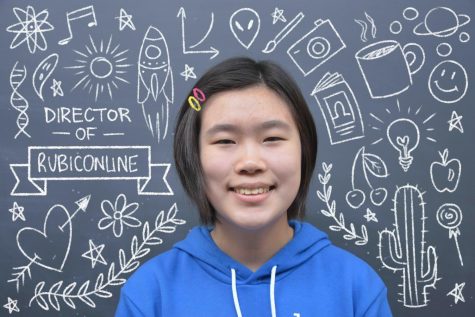 Melissa Nie, Director of RubicOnline
Melissa Nie is the Director of RubicOnline. This is her fourth year on staff. Melissa believes that everyone has a story to tell, and high school journalism...