Delgado to succeed Hughes as US principal
After multiple months of looking for the right candidate, current Dean of Students Max Delgado was chosen on Nov. 16 to be the new Upper School principal.
"Looking for candidates at SPA, we always start by looking for anyone that is interested inside the school," Head of School Bryn Roberts said.
"The steps taken to find a new Upper School principal starts with the search committee that helps with any new positions, so I meet with them. The full interview process entailed the same thing that I did four years ago when I applied for SPA, meeting with students, parents, and faculty. The thing that was a little bit different about it was that the school already knows me well, so in some ways the school already knows what kind of work I do,  it was less of about getting to know me for the first time. But more about the school getting to ask me really direct questions about why I'm interested and what I would bring to the position," Delgado said.
Though this process Delgado spent multiple hours talking with the search committee.
"There are lots of different ways to do searches, in this case we made a decision to look at the internal candidates first, and not throw them into the pool of external candidates, but once we made that decision Dean Delgado had to go through all the regular stuff. We had an hour to two hour interview with the search committee, with his resume and cover letter and all that, then he met with a group of students, he met with faculty," US Counselor Susanna Short, a member of the search committee, said.
"As this is my first year in the Upper School, I don't know Mr. Delgado that well, but with my interactions with him, as his experience as the US Dean, he has a great view over the students and the school in general. I truly believe that he will be a great Upper School Principal," 9th grader Nikolas Liepins said.
Many other people gave feedback to the search committee so that they could get different opinions and views.  The search committee couldn't officially hire Delgado themselves, so they sent a recommendation to Roberts who made the final call.
"I interviewed him separately a couple of times, at the end of the process I got the recommendation from the committee, and they said to hire him. It's very rare to have an applicant of such extraordinary quality inside the school, he passed with flying colors, and we were happy to appoint him," Roberts said.
Roberts announced to the community on Nov. 6 that Delgado was going to be the new US Principal. Delgado will assume the rule on July 1. As the new US principal, many believe Delgado will bring many new ideas and perspectives to the position and the school. 
"A real strength of Max Delgado's interview, was that I know him well, but I still learned a ton about him during the interview, he talked about his ideas he had that we never talked about,  I saw a different skill set. We are heading into a big time of change through the math and science center opening, that having someone with fresh ideas through the principal lens, but a really solid understanding of who we are and what our values are will be really helpful," Short said.
With the new found information about next year's US principal, students opinions are all mainly positive.
"I feel that the new Upper School Principal is a great choice, because Delgado is amazing with all students, and I'm sure he will be a great principal," junior Nora Povejsil said.
Most students already know Delgado to some extent.
"I really like the Dean; freshman year I was in his advisory, and since I was new he was really welcoming. I think he is involved with the school community more so than a new principal would be, he has a really good judgment about balancing student life, and disciplinary actions," junior Elea Besse said.
Compared to other administrators, students believe that Dean Delgado's connection to the school will be more unified.
"[Delgado] being our principal will definitely be an advantage. I believe that he knows the students on a more personal level, and with a lot of the other administrators it's more of a shadow control over the school, that's more impersonal. I believe it will all feel more connected," sophomore Sydney Therien said.
Leave a Comment
About the Contributor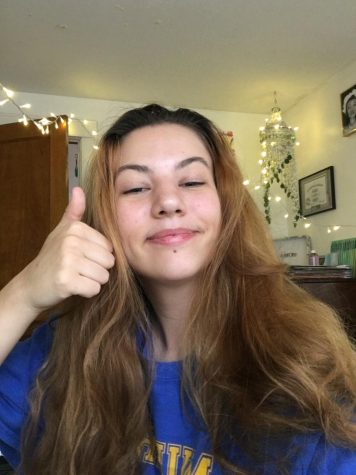 Tana Ososki, A&E Editor
Tana Ososki is an Art and Entertainment Editor at RubicOnline. During her free time she enjoys painting and spending time with her family and friends....