Chinese Olympians help students with language, gain understanding of culture
For the third year, the Chinese students and teachers welcomed Chinese Olympians into their classrooms for a day.
"[The Chinese Olympian's] program is one year at the University of Minnesota, and its a cultural and academic exchange. [Having them visit St. Paul Academy] is a great way to have our students communicate with native speakers. For the Chinese Olympians, it's fun to see a United States private school, because they learned in and know the Chinese education system," US Chinese teacher Tian Wang said.
In the past years, the Olympians came and the students were not as prepared to talk to them. This year, the students did some extra work to get ready to talk to Olympians before they came.
"Especially for this year, I did more thinking about how to have out students enjoy the moments with [the Chinese Olympians]. We read their bios before they came […] two students studied one athlete and thought about questions, so when the athletes came, they can find their person and have a more detailed conversation, as well as meet other athletes. We did some prep," Wang said.
"Normally, I only talk to my Chinese teacher. So having many different people who have come from all reaches of China and hearing the different dialects was really good to help both listening and speaking skills," Sophomore Chinese student Ethan Dincer said.
To expand the experience, the German students were welcomed into the visit, allowing the Chinese students to use their knowledge in a real life situation.
"The German 4 kids came to ask the Chinese Olympians questions too, and we had to act as translators from English to Chinese, and then Chinese to English, so that it helped our speaking skills and the German students got to ask really famous people questions," Dincer said.
About the Contributor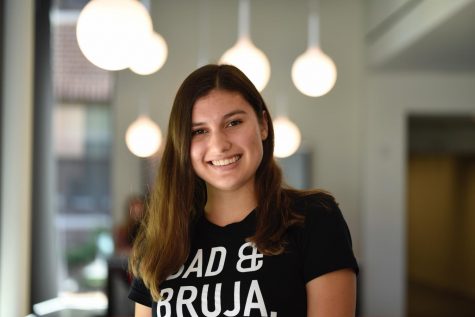 Isabel Saavedra-Weis, Opinions Editor
Isabel Saavedra-Weis is the Co-Editor of Opinion on the RubicOnline. She also is behind the blog No Right Answer. This is her fourth year on staff. Recently,...