Advanced Science Research encourages variety in experiments
The Advanced Science Research section of the SPA Science curriculum allows students who are deeply interested in the subject to push their knowledge to higher levels. The class begins during the second semester, and many of the students participating are already working on their experiments.
Junior Helen Bartlett is studying pregnancy and use of contraceptives.
"I'm working with Planned Parenthood and exploring how healthy equity factors influence Minnesota High Schoolers' sexual health behaviors," Bartlett said.
Bartlett continued, "I want to determine to what extent health equity factors or social determinants of health increase the risk of teenage girls to report inconsistent use of contraceptive use or unwanted pregnancy."
Bartlett describes health inequity as a "health difference or disparity that is systematic, unfair and avoidable" and social determinants of health as "conditions in the environments people are born and live in that affect a wide range of health and functioning processes."
Junior Sameer Bijwadia also takes Advanced Science Research. His experiment differs from Bartlett's in that it focuses on the more traditional idea of science rather than science in social environments.
"
I'm seeing how metals affect E. coli growth because metals tend to kill bacteria over time."
— Sameer Bijwadia
"I'm seeing how metals affect E. coli growth because metals tend to kill bacteria over time." Bijwadia said, "I think it's interesting to research because it's the reason behind making doorknobs out of brass. But it goes unnoticed because it happens so slowly but it happens a lot because it disinfects metals over time."
Junior Richard Chang's experiment is more similar to Bijwadia's than Bartlett's. He is studying UAVs (drones) and providing context to their reliability.
"It's interesting to me in the sense that I watch tv shows regarding how airplanes crash so that's where my idea kind of started in terms of flight and safety," Chang said.
Chang believes that by studying the flight safety of drones the information learned can be applied to bigger airborne devices such as planes. But he also thinks drone safety itself is a concern as well.
"I think drones are important to study because they are becoming more and more popular and there are more people buying drones so safety is becoming a bigger concern," Chang said.
The Advanced Science Research group has a diverse group of experiments and realms of study. Yet the class is meant for this diversity exactly – students are encouraged to stretch their science interests in whatever direction necessary for them to reach new discoveries.
About the Contributors
Martha Sanchez, RubicOnline
Martha is a Co-Sports Editor on RubicOnline. This is her third year on staff. She loves writing and this had led her to journalism. In addition to Martha's...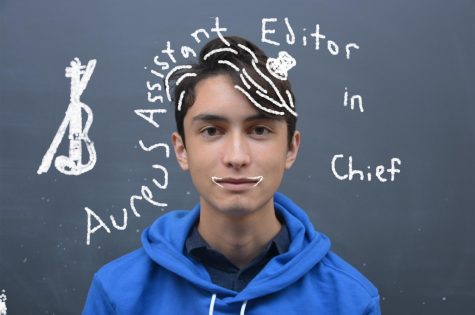 Sam Hanson, Aureus AEIC
Sam Hanson is the Assistant Editor-in-Chief of Aureus magazine and a writer on RubicOnline. This is his third year on staff. Sam enjoys using multimedia...