Advanced Science Research ignites passion and invites curiosity
The Advanced Science Research (ASR) presentations on May 24 exemplified the intellectual capacity and determination of ten Upper School students who showed posters outlining the results of their semester (or year) long research projects. Two students, junior Adnan Askari and senior Sara Bohjanen, also gave formal presentations of their research to a crowd of parents and classmates.
The class is designed to empower students to pursue their own path of research and pushes them to pick their most obscure scientific inquiries clean. Junior Henry Zietlow continued his studies of mussel burrowing habits in response to ammonia presence, junior Emily Carter explored comparative methodologies for plastic waste management, junior Ben Mellin researched polymers and acid catalysis reactions and junior Emilia Topp-Johnson intended to study terraformation on Mars. The variety of experiments presented shows how ASR students use the opportunity to push their curiosity to new depths.
"What I was seeking to find out is whether I could find a strategy to grow maize on Mars," Topp-Johnson said.
A few students in the class have developed their projects for the duration of the semester, but many students are continuing work from last semester or even last year. Topp-Johnson has completed multiple levels of research regarding maize growth and fungus since middle school and her project this semester adds more complexity to her studies.
"The premise of my experiment was seeing if this variety of fungi called mycorrhizal fungi would facilitate the development of maize in emulated Martian soil," Topp-Johnson said.
Similar to Topp-Johnson's extensive corn research, Bohjanen has been doing clinical studies on chitin and pathogens at a lab at the University of Minnesota for over a year and a half. She even traveled to Uganda to help conduct clinical research for drug testing for chitinases.
Despite the great time commitment, Bohjanen said that all the hours were worth it.
"When you get the results back and they are significant, it is the most fulfilling feeling. It's indescribable," she said.
The other student presenter, Askari, eloquently explained the aspects of his experiment that dealt with how colder temperatures affects gravitropism (the tendency of plants' roots to grow in response to gravity) of two different varieties of flower. Askari gave extensive thanks his lab mentor at Macalester where he conducted the majority of his research. Many of his fellow classmates also worked in university labs assisting research students and professors with their experiments. Such exposure to professional lab spaces grants the students new opportunities to make connections for their long-term scientific careers, although connecting with a lab is an arduous process. Most of the ASR students spent weeks trying to contact potential research mentors to gain access to professional lab space, but junior Sorcha Ashe had a lifelong connection to her lab space: she worked with her mom's research team.
"I was going to look at gender differences in the rate of neuron loss in mouse models of Alzheimer's disease because currently women get the disease more severely," Ashe said.
Because working with mouse brains is a biological hazard, Ashe conducted her experiments in the same building as her mom, who studies Alzheimer's with mice models too. The potential for profound results from her research was undermined unfortunately by a fault in the methodology.
"I was going to use a kind of novel model method that hasn't been used in these mouse models before. I was going to try to get it to work. It allows people to quantify the number of cells in tissues really easily. And it involves antibodies which are supposed to fluoresce when they  bind to certain cells. But my antibodies didn't, so I have just been this semester trying to get this method to work and although I was able to get one half to work, I wasn't able to get the other half to work. So I am planning to that over the summer and continue in the fall," Ashe said.
"
When you get the results back and they are significant, it is the most fulfilling feeling."
— Senior Sara Bohjanen
The headaches and mishaps throughout each student's experiment did nothing to hamper their enthusiasm for their research. If anything, it made them more excited to develop their methodologies further. Although Topp-Johnson set out to grow corn in outer space, her research revealed more immediately applicable results: the need for adjusting the germination procedures of maize in a sterile environment.
"[My experiment] underscores the importance of adjusting germination procedures so they are under a sterile environment. Most existing literature never stresses how important sterile procedures are," Topp-Johnson said.
As for Ashe, although she was not able to fulfill her original plans, her research was rewarding in its own right.
"The most gratifying part was when one half of it worked, after some trouble-shooting. The part that worked was staining with a chemical that makes DNA glow blue. So when I looked under the microscope at all the little nuclei they looked like stars and constellations," Ashe said.
While core academic classes can sometimes fall into a cut and dry textbook mold, ASR allows students to pursue unique and novel scientific questions based on their passions. The emphasis on independent inquiries and exploration allows students to test their knowledge and ask the big question, "why?" when results turn up unexpectedly. The class instills lessons and values that are applicable inside the lab and out.
About the Photographer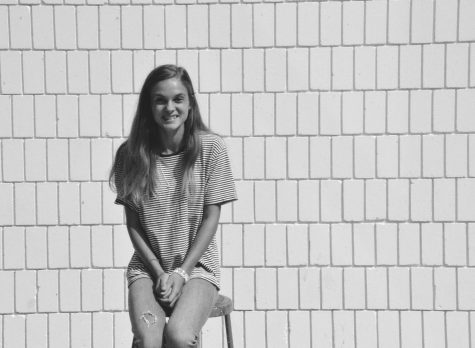 Flannery Enneking-Norton, The RubicOnline Feature Editor
Senior Flannery Enneking-Norton is an environmental science enthusiast, an avid hiker, and the Feature Editor for RubicOnline during the 2017-18 school...