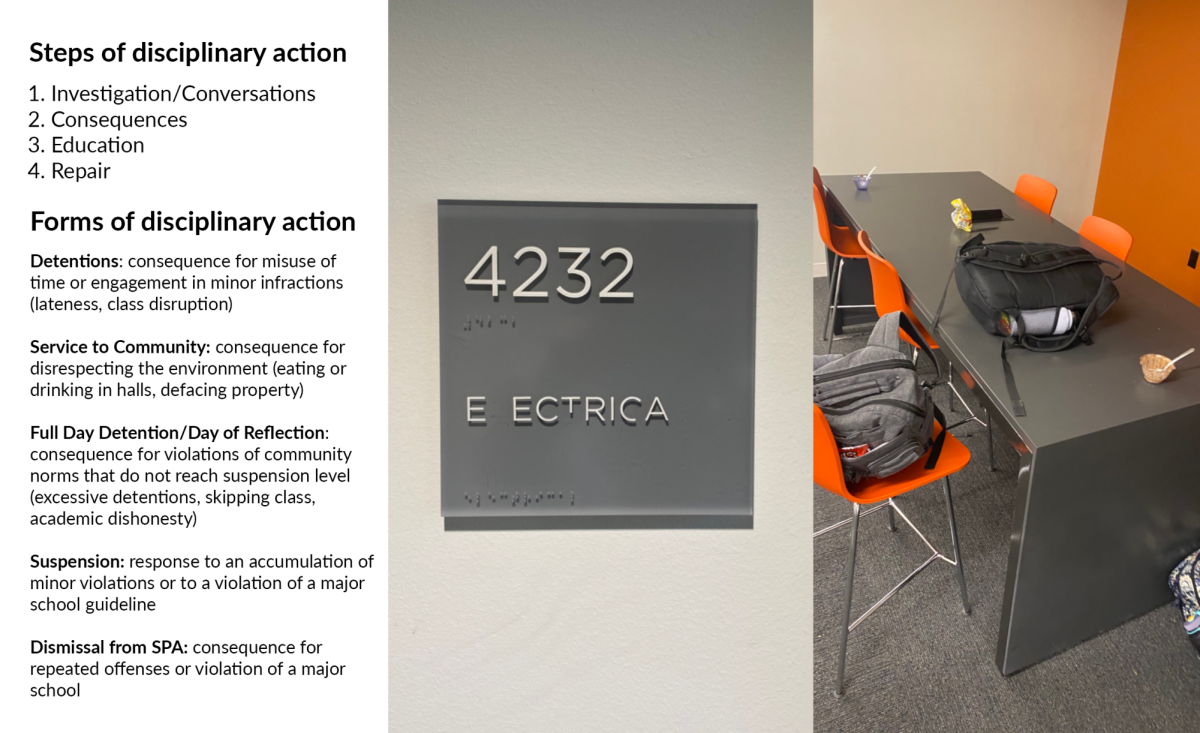 On Oct. 31, the upper school gathered in a short assembly warning against recent misconduct in the community. Recent issues included defacing property, especially in bathrooms and classroom areas, taking pictures of others without their consent, and leaving messes behind in school spaces. Dean of Students Stacy Tepp called on students to do their part in cleaning up after themselves and respecting communal areas.
While issues with cleaning up were brought up last year, the damage to classroom nameplates and bathroom equipment presented new problems. Tepp mentioned that the continuing mess in communal spaces is especially prevalent due to the return of couches in Huss. "There has been more of a gathering space, which is good; I like that people are gathering there, but it's also been [messy]," she said.
In response to community misconduct, students may face disciplinary action from the administration. The Student Handbook describes four steps of disciplinary action: investigation/conversations, consequences, education, and repair. Tepp explained that although identifying students can be difficult, consequences for disrespecting school spaces have previously entailed conversations with parents, detentions and community service, which often means clean-up duty. "I think there's a balance, though, of discipline, but also just respect to the space," Tepp said.
"
How you treat the space you're in says something about how much you value each other.
— Stacy Tepp
Beyond leaving communal spaces in bad condition, Tepp described extreme misbehavior, such as sharing private and nonconsensual photos of others, as a violation of trust established in the community. "I truly believe we're all interconnected," she said. "If there's … a photo of someone being taken that was in a vulnerable moment and share[d], that's a loss of trust. That's a loss of feeling safe and comfortable in a space where you're expected to thrive and be excellent." Students may face full-day detentions, suspensions or dismissal from SPA for more severe infractions.
Finally, Tepp emphasized that the responsibility of respecting these spaces falls on all community members and how they regard the values of the school. "How you treat the space you're in says something about how much you value each other," she said. "It's not on any one person, we all have to do it."