A week of stickers, documentaries, and periods
International Women's Day celebrates females inside and outside the community
Perhaps the idea of International Women's Day — a day set aside for celebrating, recognizing, and uplifting the female-identifying population — is counterintuitive. If true equality is the goal, then there shouldn't be only one day where the world pauses to praise women. This irony isn't lost on HerSpace co-president, senior Nitya Thakkar.
"It's important to recognize the achievements of women every day. But, it's also nice to have one day a year to make sure we express appreciation, and realize the barriers women face to obtain the same opportunities as their male counterparts," Thakkar said.
Annual traditions and new events were both a part of the 20 19 International Women's Day celebrations planned and promoted by HerSpace. Honorary of past years, student-made stickers were created and distributed, each with their own feminist symbol or slogan, such as "cats against catcalls." Additionally, a two day bake sale raised $650 for PERIOD, an organization that will take that money to fund the menstrual cycles of 27 women.
New on the agenda was the screening of two movies. First, the HerSpace showed the Oscar-winning documentary Period. End of Sentence. to shine light on the cultural and financial struggles women face globally when dealing with menstruation. Additionally, partnering with Film Club, they showed Hidden Figures on Friday afternoon.
HerSpace's daily Bluesheet announcements also shined light on the female-identifying community outside of St. Paul Academy, and informed the school that this year, International Women's Day is focused on #BalanceforBetter. The idea of intersectionality was also a common topic when discussing the feminism of today; inclusive, diverse, and multi-dimensional.
About the Contributor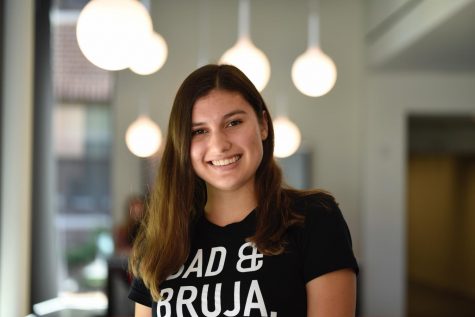 Isabel Saavedra-Weis, Opinions Editor
Isabel Saavedra-Weis is the Co-Editor of Opinion on the RubicOnline. She also is behind the blog No Right Answer. This is her fourth year on staff. Recently,...