Words of wisdom: to and from Susanna Short
Elle Chen: Upper School counselor Susanna Short has been working at SPA since 2010. As her 12th year at SPA comes to an end, Ms. Short will be moving to New Mexico with her wife and starting a private practice. There, she hopes to work with adolescents and adults from across the country.
One of Ms. Shorts' favorite memories of SPA is teaching wellness and watching students learn and grow. She said, "I laugh when I think about how many students have borrowed my gorilla costume for prom-posals! I feel a deep sense of gratitude to all of the students and parents who have trusted me with their stories of pain, loss, struggle and healing. I am honored beyond words. "
So in appreciation of everything Ms. Short has done for the community, we in turn have collected student quotes about Ms. Short.
Sevy Hayes: I'm Sevy Hayes. I'm a senior and I use she/her pronouns. Ms. Short has definitely been a big help just also with other academic things but probably one of the memories that stands out the most to me was when I was a freshman and my dad texted me that my stepmom was in labor with my baby brother and we hadn't really discussed what would happen if this were to happen during a school day so I ended up going to Ms. Short and she just helped calm me down and talk me through what to do.
Remy Erbert: Hi I'm Remy. I'm just really grateful for Ms. Short just always being there for me and everyone really… honestly she's like a pillar of this community which sounds kind of dumb to say but when I think of the community, Ms. Short is always there. She like really important. I don't know how else to phrase it.
Ellis Mebranhtu: Hi, I'm Ellis. I'm a sophomore. He/him. I was in Ms. Short's wellness course this year and I'm grateful for the energy she's always brought to each of our classes just to teach us. She's a very reliable teacher who always understands us and where we are at mentally.
Leni Nowakowski: My name is Leni Nowakowski. I use she/her pronouns and I'm a junior this year. Ms. Short has always been super supportive so I really appreciate her for that. She always goes out of her way to ask me and talk to me in the hallways. This year a good memory I have with her is just I was standing outside ready for my softball game and she came out just to kind of hype up everyone on the team and get us excited.
Mukeil Rizvi: Hi I'm Mukeil Rizvi (senior, pronouns he/him). I've known Ms. Short since about fifth grade and she's been one of the best and most amazing teachers that I've ever had and she's always cared and thought about everyone of her students. And she also makes the best brownies ever. So thank you so much Ms. Short.
Theresa Collins: My name is Theresa Collins and I am the Upper School Principal. Here is what I have to say about Susanna Short: not only is she a phenomenally brilliant, talented, empathetic, compassionate counselor, she's just an amazing human being. She supports our students and on a personal level, she's supported me in such amazing ways this year as a first-time principal, as a person living away from her spouse, well we have one piece of that in common. In any event, she brought me curry, she brings me laughter and I love working with a person who's got the same pop-cultural reference of mind as I do. Can we say: The Jeffersons, Sanford and Son and so many more. I'm really grateful that I had at least my first year to work with Susanna and I know that all the things that she's taught me are going to help me as I continue doing work her at SPA.
Chen: This has been your host Elle. Thank you again for listening.
Leave a Comment
About the Contributor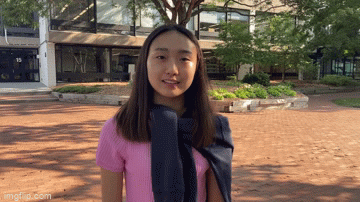 Elle Chen, co-Director of RubicOnline
Elle Chen (she/her) is a co-Director of RubicOnline. This is her fourth year on staff. Over the summer, Elle interned at NSPA to help plan journalism conventions,...