Wittenberg finds success with ASR project
Advanced Science Research (ASR) students spent much of the fall preparing their research and projects to compete at the regional level science fair, or possibly state or beyond, with guidance and mentorship provided as part of the ASR course. Many of them advanced from the regional to the state science fair, some winning individual accolades or even qualifying for the 2019 International Science and Engineering Fair (ISEF). One senior, Kelby Wittenberg, won the Gold Grand Award, recognizing the top 5% of projects, for his work concerning Recessive Dystrophic Epidermolysis Bullosa, a rare, genetic skin condition. In addition, Wittenberg, who had not participated in the state science fair until this year, was named an alternate for ISEF, won the Seagate Emerging Scientist award, for the top 10% of projects brought by first-timers, and the 3M Most Innovative Project Award.
"
I wanted to find a way to fix the skin by altering genetic code in these patients."
— senior Kelby Wittenberg
"My project dealt with a disease called Recessive Dystrophic Epidermolysis Bullosa, and what that disease causes is an absence of a skin protein that essentially holds the layers of your skin together, and when that happens, the skin blisters a lot, and you scar, and it makes it hard for you to eat, stuff like that. And so I wanted to find a way to help cure these patients with this disease, and the problem is that it's a genetic disease: you can't get vaccinated against it, you can't take pills to stop it, things like that, so I wanted to find a way to fix the skin by altering genetic code in these patients," Wittenberg said.
He described a technical methodology spanning from last June to November, involving growing and nurturing stem cells 'in vitro' (also known as 'in Petri dishes in an incubator,' he explained, as opposed to 'in vivo,' which means using human subjects), and trying to keep them from spontaneously differentiating.
"It took me probably ten to twelve tries to get cells that hadn't differentiated and were at the point where I could tell them what to do… It was very time consuming because it takes probably about two weeks to grow a stock of these cells," he said.
Wittenberg has been working with Dr. Jakub Tolar, Dean of the University of Minnesota medical school since the summer before his junior year. He stated that Dr. Tolar helped him come up with the idea for this project.
"
Personally, I had a drive to help solve this problem."
— senior Kelby Wittenberg
Wittenberg said, "[Dr. Tolar] is basically one of the only doctors in the world that works with these patients, because the chances of a baby being born with this genetic condition [Recessive Dystrophic Epidermolysis Bullosa] are about one in a million. And so he was talking about his experience with these patients and the amount of pain that they go through… personally, I had a drive to help solve this problem."
As for the success of his research, "What I was able to demonstrate essentially is that this project would work in theory, if we were able to generate stem cells before the differentiation process, and then take those carteno sites that were generated from the differentiation and then put them into mice, it would work, but there's a lot of hoops you have to jump through when you demonstrate that what you have grown is actually skin, " he said.
An unfortunate accident would made it hard for Wittenberg to continue the project.
"Back in December, I was doing some cell maintenance and just changing out their food, we call it 'media,' and it's basically a liquid that they are suspended in, and the liquid that I had chose to use was a bottle that I shared with my lab partners, and after putting this media on the cells, all of them died," he said. "After that fact, I did a little bit more investigating and found that the media had not been sterilized properly. "
"
I wanted to use senior project as an opportunity to explore my interest in skin."
— senior Kelby Wittenberg
But he is still taking his newfound interest in skin with him, even if he does not continue with the project, "Every Thursday I'm going to be working at Dermatology Consultants in Eagan, to sort of see how I can take my experience from research and see what it would look like if I went to medical school… because I'm very interested in research, but I think that doing it as my job, as my… career I think would get a little bit boring, so I'm looking to go to medical school maybe after college, so I wanted to use senior project as an opportunity to explore my interest in skin and how that would be applied later," he said.
Leave a Comment
About the Contributor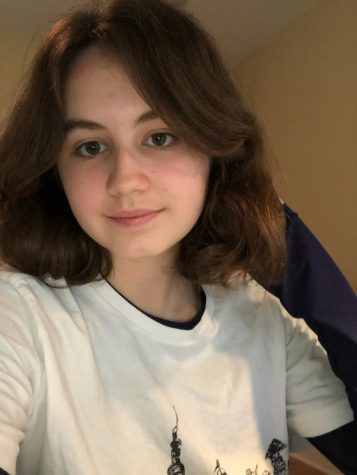 Jenny Ries, Opinion Editor
Jenny Ries is an Opinion Editor on The Rubicon. This is her fourth year on staff. She has been running, writing, and listening to music to stay busy during...