[WINS AND LOSSES] How soccer shapes student's lives
Bollinger Danielson: Soccer, a sport played by many in the SPA community. Today we are going to be zooming in on two players and how their life has been impacted by the beautiful game. Yash Kshirsagar, a junior
Kshirsagar: I have probably been playing soccer since I was four or five. That's one of my earliest memories.
Bollinger Danielson: and Naomi Straub a Senior
Naomi Straub: I have been playing soccer since I was three.
SBD: Hi, I'm Sawyer Bollinger Danielson and this is Wins and losses, the rubicon podcast where we explore how different students' lives are shaped by the sport they play.
Kshirsagar: I would say I probably play five days a week for about an hour and a half so.
SBD: That's Yash, a junior here at SPA, he plays competitively on the club team salvo outside of school and has been on the SPA boys varsity soccer team since ninth grade, next year he will be one of the three captains of SPA.
NS: Um, about, I Would say three or four days for a couple of hours each day, yeah.
SBD: That is Naomi, a Senior at SPA, this year she was one of two captains on the SPA girls varsity soccer team, leading them to a very successful year. when it's not the high school season she plays for the St. Paul Blackhawks.
SBD: With the amount of time these students are using for soccer, they have to learn how to balance homework and practice and find out how taking a break can be helpful, and learn from the shortened amount of time they have for school work. For Naomi, it means working on her time management skills and having a moment to just focus on anything but the work she was assigned.
NS: it's important to me because then I have, it gives me a break in my day so then I have like I have to be aware of how much time I'm using to do my homework or studying, so then I get it done faster.
SBD: For Yash soccer has helped a lot with reducing his stress this year.
YK: I would say especially this year soccer has been kind of like my escape from school and like all the stress that comes with tests, um you know whenever I have a busy week, a lot of tests and especially like standardized tests, those are coming up so those are always stressful. I can always look forward to my practice and meeting my like teammates and friends um and just playing soccer with them.
SBD: Yash has found that getting along with his teammates has provided a lot of fun times that he couldn't get anywhere else.
YK: Going out of state for like tournaments and you know being with your teammates in a hotel, that's something you don't really get without playing sports, and I feel like that's just something that's really cool with soccer.
SBD: Naomi has been able to learn a lot of valuable lessons from interacting with her team.
NS: Well, I think being a team you do learn a lot of stuff by like having to include everyone and talk to everyone even though you might not talk to them normally and stuff like that.
SBD: Like Naomi, Yash has also learned many lessons he can use in his day-to-day life.
YK: Yeah so I guess perseverance, like not giving up if you have a bad practice. Um you know, teamwork and like, being a good teammate and working well with um ya know other people in groups. Um like and trying to ya know fit yourself in terms of a bigger team, to improve the team, as well as um ya know dealing with pressure and like um you know hardship if you lose a tough game or lose in a tournament or ya know even if you win the tournament, those ups and downs have really shaped my life.
SBD: Thank you so much to Yash Kishager and Naomi Straub for sharing your ups and downs while playing soccer. We wish Naomi the best of luck in her first season playing college soccer at Carleton university next year, and good luck to Yash this fall where he will be helping lead the boy's soccer team to another amazing season. Tune in next week to hear a new episode of Wins and Losses. Once again, I'm Sawyer Bollinger Danielson; thank you for listening.
Sincerely by Kevin MacLeod
License: https://filmmusic.io/standard-license
Leave a Comment
About the Contributor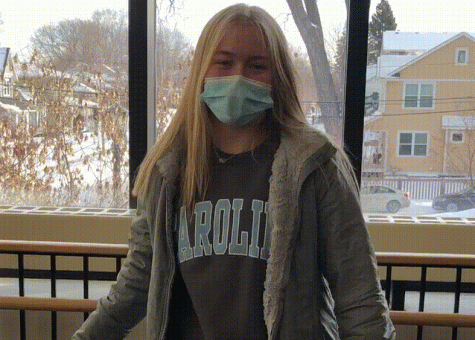 Sawyer Bollinger Danielson, Staff Writer
Sawyer Bollinger Danielson (she/her) is a new staff writer this year. She enjoys playing soccer and hanging out with friends and family.