Virtual summer camp? No, thanks.
Students have suffered the effects of Covid-19 for over a year, having to adapt for activities and school, but one uncertainty is this year's summer schedule.
Most camps last summer were canceled because going in-person wasn't an option and people were not yet used to the online system. While summer online experiences may increase in quality this summer, the problem of the virtual, at home, on a computer for hours has no good solution.
Many summer camps take advantage of the nice weather and are held outdoors like camping, team building, and sports. It is impossible to do these via Zoom, so registering is wasting precious time and money. Besides, most friends would hang out regardless of the COVID-19 guidelines, allowing them to attend in-person camps would actually benefit them because teachers would be able to keep an eye on them to make sure they are following the safety rules.
Camps could also require older students to be fully vaccinated or for those too young to take the vaccine to present a recent negative covid test. Most schools now have found a way to transition into either hybrid or full in-person schedules so it makes no sense for summer camps to be the only ones still stuck online.
Unless it is a strictly academically focused camp, there would be virtually no point in signing up for an online summer camp: people are less inclined to interact with each other and the whole at-home setting just doesn't present the spirit of fun camp should provide.
Leave a Comment
About the Contributors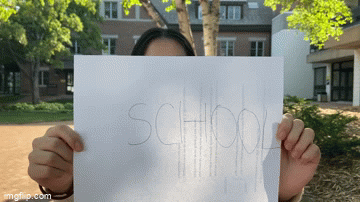 Annie Bai, Specialty Section Editor
Annie Bai is a the Specialty and Good Question editor for The Rubicon. She loves to eat and sleep, an interesting fact about her is that she is a figure...
Mimi Huelster, Illustrator
Mimi Huelster is the Illustrator on RubicOnline. This is her second year on staff. While in self-isolation, you can find her drawing, making toast, and...