Untitled Music Club creates community for diverse musicians
Sophomores Anja Trierweiler and Isabelle Wolpert were looking for a stage for their musical talents. However, what they were looking for didn't exist yet. So they made it.
"Isabelle and I both really love music. There's an a capella group, which is only for singers. We wanted a band for instruments and singers. We just wanted to throw anyone who liked and played music into a room and see what happens," Trierweiler said.
Their vision resulted in a new club, known to outsiders as Untitled Music Club. Being untitled isn't lack of creativity… it's meant to be mysterious.
"Once you join the club, you'll know the title," Trierweiler said.
For a new group, Untitled Music Club was quick to organize. The members of the club are divided into three bands, and each band spends the 35 minutes of Friday tutorials working on a song.
The current membership has about 15 regulars. While there were more people originally, the decrease shows commitment: "It doesn't take much time, but it takes work, which funneled out quite a few people," Trierweiler said.
For musicians tentative about joining because of their lack of musical experience, Trierweiler assures that the Untitled Music Club can provide guidance.
"I'm teaching a handful of guitarist how to play chords and do various picking," she said.
Performances are still to be decided but could take place in the form of open mics.
About the Contributor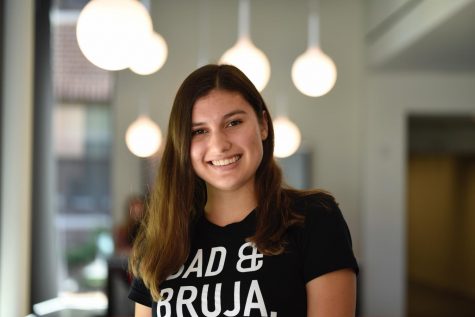 Isabel Saavedra-Weis, Opinions Editor
Isabel Saavedra-Weis is the Co-Editor of Opinion on the RubicOnline. She also is behind the blog No Right Answer. This is her fourth year on staff. Recently,...