[TRENDING] Ep. 6 Summer movies
,
Hello, I'm Liv, and welcome to, or back to, Trending. Today, for the first time, I'm actually not going to have a special guest, but it's the last episode of the 2018-2019 school year, so I thought I would talk about some movies coming out this summer, where you can see them, when you can see them, if you should see them, etc. So the first movie I want to talk about is Booksmart, which actually came out this past weekend. I saw it on Monday, on Memorial Day. I really liked it. I heard a lot going into it about it being the "female Superbad," and it was going to be super amazing, the film of the year. So I went into it being super hyped, and it didn't quite meet my expectations, because my expectations were so so, so high, I really, really liked it. I think that the performances, specifically from Beanie Feldstein and Kaitlyn Dever, the two leads. I think I'm pronouncing their names correctly. Hopefully, I am. They were really, really good. They had amazing chemistry. All the jokes were really funny. They hit really well, in my opinion. I thought all the characters were really good honestly. All the actors. A lot of the characters were really well fleshed out, even some of the smaller characters. The pacing was a little funky, I thought. The whole movie is set in the span of one day, but it just feels a little wonky while watching it because it will go super fast at some points and then super slow. It feels like it's a very, very long night, I guess I would say. But I would totally recommend that everyone go see it has a fun soundtrack, fun colors. It's kind of like your base, your everyday basic team movie, but it also has pretty good representation as far as the LGBT community goes. Yeah, it's a fun movie all around, and you should go see it. The next movie is The Last Black Man in San Francisco which comes out June 14. I don't actually know a lot about this movie not going to lie, but there are two things I know. And one of them is that it's A24 which is a film distribution company. They also produce a lot of good films too though they've produced Moonlight, Ladybird, etc. So that's a good sign. And then the second thing is that a lot of people who saw it at Sundance and really, really liked it. So I'm definitely going to be seeing that one when it comes out, and you should too. Then we've got Toy Story 4 coming on June 21, which I haven't really heard that much about. But if it's anything like the first three, then I feel like it might be pretty good. It's always a little funky when Disney tries to come up with sequels, actually is Toy Story Pixar? I think it's Pixar. But I feel like Toy Story 2 and Toy Story 3 were really good. So hopefully they'll be able to continue the streak and make a good sequel. We'll see. Then we've got Spider-Man: Far from Home, coming on July 5, which I'm super excited for. Obviously, Endgame just came out, and that was a big deal for Marvel. This is going to be the final installment in the MCU. Kind of wonky that it's coming after and game, but if anyone has seen the trailers and you know that it's a continuation like it starts from the end of endgame and where Peters at after everything goes down not to spoil anything. It that should be good. Definitely going to be one of the highest grossing films this summer, probably up there with Toy Story 4. That one should be fun. Then also on July 5, we've got Midsommar, which is another A24 movie. And it's directed by Ari Aster, who directed Hereditary which came out I believe, last spring, I think, yeah, I saw that in theaters, so I that was really really good. If you haven't seen that, that's also a great movie to watch this summer. It's on Amazon Prime and possibly some other streaming platforms. Not sure about that. But that was super good, and Midsommar is also supposed to be fun. It looks like a pretty fun, original horror movie. Set in Sweden. Should be a really good time. I love a good horror movie. If you don't then maybe go catch Spider-Man that night instead, or Booksmart if that's still in theaters. We love a good story about Scandinavia. And then next we've got The Farewell, another A24 movie, which comes out on July 12 starring Awkwafina. The trailers for this one look really, really good. And I'm super pumped to see this. It's about a girl, and I'm pretty sure like her grandma has cancer, but they don't want to tell her. It's set in China looks really great. I'm not really sure if I have that plot completely correct, but that's kind of the jist of what I got from the trailer. Either way, it looks really great. Regardless, go watch the trailer, check it out, you know. And finally, I wanted to talk about the Uptown Theater midnight movies because I've been to a few of them myself. And I've really enjoyed them. And I think they're super good time. If you just go with your friends, make a whole night out of it, get some dinner in Minneapolis, you know, the whole shebang. So they have midnight movies throughout the entire year, but they have their schedule out for June and July, so I just thought I would go through some of those movies because I think they're a super fun thing to do in the summer, and I don't know how many people at SPA know about them. So, first and foremost, they've got The Rocky Horror Picture Show which is super fun. They do it at the end of every month on the last Friday and Saturday night at midnight. I've seen that twice at the Uptown, a lot of people dress up. They've got a live cast that acts out the movie in front of the screen, which is always super fun. You can buy little prop bags with like newspaper, rice, playing cards, other stuff. During people will be quoting it, and you can throw all the things up you get in the prop bags. It's really good time. It's got really fun songs. It's a pretty hilarious movie, pretty culty, so that's really fun, especially if you haven't seen it before. Though you might not be able to understand what they're saying in the film because everybody's screaming so loud. Either way, it's a good time. Then they've got Kiki's Delivery Service, which is a super good and Miyazaki film. It's really good if you like cats, good if you like witches, good if you like animation, really good film all around. It was my sister's favorite Miyazaki film when we were little, so that's fun. Then we've got Goonies, which is super famous, obviously. Just some kids looking for treasure, and a bunch of stuff happens along the way. That's a super fun movie. If you haven't seen that before, I can imagine that'd be super fun at to see at the Uptown. Then they've got The Terminator 2. I haven't seen that before. I haven't even seen the first one either, but you know, might be a good time. Or not, no clue. I haven't seen that either. Then they've got Clue which would probably be pretty fun. A little midnight murder mystery action. Then they've got Jaws. Obviously everyone's heard of Jaws. Steven Spielberg. Kind of a big deal. I don't know if you've heard of it. Then, A Hard Day's Night. You know, the Beatles. That's probably going to be a really fun one. Especially for Beatles fans. If you know and love the Beatles. That's probably going to be a good time. Obviously, they've got Rocky Horror again at the end of July because it's at the end of every month. So, yeah. I'm definitely going to try to pop out to a few of them myself. Hopefully this list will help you find some movies to be interested in the summer. Obviously, there's a great selection on Netflix, Hulu, Amazon Prime. Also, go check out some independent films, go to the Lagoon, go to the Trylon, go to the Parkway. See some new movies. Have a good summer. Thank you for listening to Trending. Hopefully we'll be back next summer, not next summer, next school year with some more information on the top social media things, movies, music, you know, all that fun stuff. Thank you for listening, bye!
Leave a Comment
About the Writer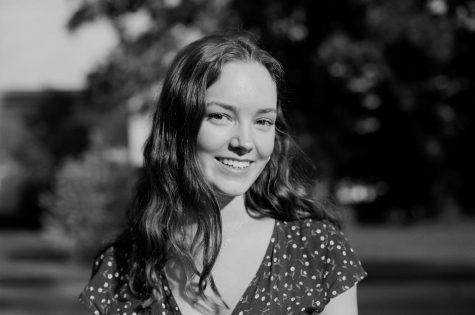 Liv Larsen, Feature Editor
Liv Larsen is a Feature editor on RubicOnline. This is her fourth year on staff. She has been staying busy during the pandemic by watching (too many) movies,...