[TRENDING] Ep.7: Playlist Breakdown (Lana Del Rey, The Strokes, Brockhampton)
Hey guys, I'm Liv Larsen and welcome to Trending season two. Today I'm going to be doing a little playlist breakdown for my playlist that I've been listening to since the beginning of the year. Let's just get right into it. So, first up I've got Lana Del Rey's new album, Norman F*****g Rockwell. I've been loving this album so much. I do think it's pretty similar to her old music, but I really don't have a problem with that at all because I love all of her old music so much, obviously, especially Born to Die and Ultraviolence. It's all so good. Some standouts on this album for me have been "Bartender," "Cinnamon Girl," "Doin' Time," "Mariner's Apartment Complex." Really you can't go wrong with this album. I feel like every song is so good, so strong. None of them are quite upbeat, I would say "Doin' Time" is. This album is so great for a night drive, or if you're just doing your homework and you want something relaxed to listen to, this is it. So, yeah that's been something that I've been listening to a lot.
Next, I've got a lot of The Strokes. I've got the whole Angles album and Is This It. I've been loving The Strokes so much recently. I've always been a fan of the Arctic Monkeys, and I know Alex Turner obviously, the lead singer of Arctic Monkeys, has several lyrics about The Strokes, including on their new album Tranquility Base Hotel and Casino, "I just wanted to be one of The Strokes." So, I kind of knew that I would like The Strokes, but I only really started listening to them this summer. I've been loving their music, specifically "When It Started," "Life Is Simple In The Moonlight," and "Call Me Back." Those are all such great tracks, and I've been loving them. I definitely get Arctic Monkeys vibes, which I love, but also they're just such fun, upbeat songs. I love the instrumentals, so that's great.
I've also been listening to a lot of soundtracks recently, and specifically Sofia Coppola, who is one of my favorite directors. I love so many things about her films, but soundtracks are one of the things about her films that just makes them so good. I know obviously she didn't make the songs and stuff, so some people would say that that's not something she should be appreciated for. I know Quentin Tarantino gets some flack for relying on music in his movies, but I love a good soundtrack and Sofia Coppola, she always is killing it with the soundtracks. Specifically, I love listening to Lost in Translation and Marie Antoinette soundtracks, but this Summer, and just this school year, I've been listening to Marie Antoinette's soundtrack a lot. Some of the songs that I've been loving are by The Radio Dept. "Keen on Boys" and "Pulling our Weight" are such good songs, so definitely check that out. Another soundtrack I've been listening to is Pulp Fiction. Big shocker there. Just, you know, one of the most popular films of all time, but it seriously it does have such a good soundtrack. I love Quentin Tarantino, or whoever made the soundtrack's decision to leave in some of the audio clips of the dialogue. That movie has some of the best, I mean most iconic dialogue. I wouldn't necessarily say best. I don't think I'm one to judge that, but the dialogue is definitely iconic, and it's just such a fun experience listening to the soundtrack. I have that CD in my car, and I'm always just playing it. It's so good. It's a short soundtrack, but it's sweet. Specifically "Misirlou," I don't know how to say that but, "Jungle Boogie," "Let's Stay Together," "Son of a Preacher Man." Those are all such great songs, and I love listening to them in the car, or just anytime. Doing homework, it's always a good time. Love those. Obviously Brockhampton's new album Ginger I've been streaming a lot.  As of right now, I don't like it quite as much as the Saturation trilogy, but I do like it more than Iridescence. I think that's where a lot of fans stand on that. Overall, some of the tracks that I've been loving are "Boy Bye," obviously "Sugar" which is the one that the band has been trying to promote a lot, "Love Me For Life," obviously "Dearly Departed" has some amazing verses, specifically from Dom. Those are all great tracks. Ameer Vann, ex-member of Brockhampton who was kicked out of the group in May of 2018, just released an EP that came out today. I've only had the chance to listen to that once, but it is very interesting… I don't even know how to describe the feeling, but listening to Ameer's take on… Not necessarily his take, but just where he's been mentally since May of 2018. Obviously, it's been a really dark place. I don't wanna speak on that too much because I don't know the situation. I don't know what went down. I obviously don't think Ameer is that good of a person based on what I know about the sexual assault and emotional abuse allegations that I've heard about. He definitely on this album is, I don't know if he's playing the victim, but he's definitely talking about how hard of a time it's been for him and how much he wishes he could go back which… I definitely wish he could go back and change those mistakes. I definitely think his victims do too. It would be cool if Brockhampton was still together again because they had such an amazing chemistry that I think they've lost, and I think a big part of Ginger and Iridescence has been Brockhampton trying to find their new flow after losing such a core member. Yeah, that's a really good album. Go stream Ginger.
Next, I've got some Joy Division from their live at Birmingham University album. I've got "Disorder" and "Ceremony," and then "Sister Ray" live at the Moonlight Club in London. I like Joy Division a lot. I'm a bit of a bigger New Order fan, but I was with my dad getting dinner somewhere and they were playing "Ceremony" but the Joy Division version, and my dad and I were arguing about whether it was Joy Division or New Order. I've only really listened to the New Order version, which is also in the Marie Antoinette soundtrack. Then my dad was introducing me to some of the live albums which I hadn't really listened to. Those are really great. I love the "Sister Ray" cover at the Moonlight Club. That's really good. Definitely check that out.
My dad made a playlist for me just 3,000 songs. Essential songs that I need to listen to I guess. Little crazy if you ask me. Two songs I have on this playlist (from his) are "Chinatown" by Destroyer and "Uncertain Smile" by The The. I can never really decide how you're supposed to say that like "The The," "The The." I don't know, but anyway, those are two really good tracks.
I've got some Deb Never and Dominic Fike. They were at the Fine Line about two weeks ago or so. That was a really great show. I love Dominic Fike. I think he's really going places. "3 Nights" is obviously the hit that sort of made him blow up. I found out about him through Brockhampton after "3 Nights." I don't even know, maybe the whole EP was out. They were posting about him a lot. I listen to a lot of their music recommendations because, they also recommended Deb Never, and honestly it's just some really interesting upcoming artists. They're always on it. From Dominic Fike, some of my favorite tracks would have to be "Westcoast Collective," and "Acai Bowl." Then from Deb Never, "Out of Time" and "Ugly" are two of my favorites.
Finally, on this playlist, I've got "Rings (On A Tree)" by Frankie Cosmos whose album just came out, and I've been loving that album a lot. Its got a lot of really short tracks which I really like. It's something Dominic Fike also has. All of his songs are about 1, 2, 3 minutes, really short, and I love that approach. Tierra Whack also did that with Whack World did that. Lots of short songs. I personally never really get tired of them. I just love a good short album, so I've been loving that.
That's all for today's episode of Trending. Thank you so much for listening. If you want to be on the podcast, if you have any topics that you think I should cover on the podcast, just let me know either via the Rubicon's Instagram, my Instagram, whatever you want. Thank you so much for listening. This has been Trending from the RubicOnline.
Leave a Comment
About the Contributor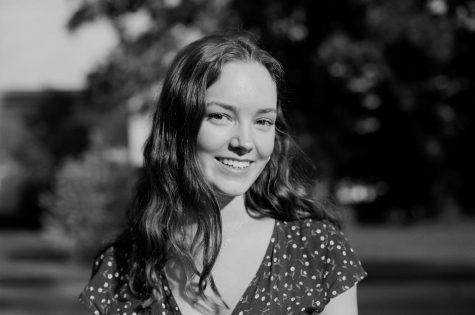 Liv Larsen, Feature Editor
Liv Larsen is a Feature editor on RubicOnline. This is her fourth year on staff. She has been staying busy during the pandemic by watching (too many) movies,...