[TRENDING] Ep. 4 with Jane Christakos (Playlist Breakdown)
Liv Larsen: Hey everyone it's Liv. Welcome back to another episode of Trending. Today I'm with…
Jane Christakos: Jane.
LL: And we're going to be going through one of Jane's playlists and just talking about some music.
JC: Ok, so, let's see… One of my playlists that probably has the most songs, and I don't make many playlists, but it's basically just an R&B playlist cause that's what I like to listen to. The first song that popped up was "Jungle" by H.E.R. Really good song, wait… Yeah. It's a banger. It's a good song.
LL: Yeah. Did she have an album come out recently? Or does she have one coming out soon?
JC: Yeah she had one come out recently. Let me look up what the name of it was. That one is from her previous one. Her new album is I Used To Know Her. She's really good. I think she's had songs with…
LL: Daniel Caesar.
JC: Daniel Caesar, Bryson Tiller, probably some other people too. Another one… let me see… Oh, "Honesty" by Pink Sweat$. So that's also a really good song. I don't really know any of his other songs though. I just kind of came across it one day and decided to put it on my playlist. That kind of happens a lot.
LL: Is that how you find your music? How do you usually find new music for your playlists or just to listen to?
JC: I'll either listen to someone else's playlist or I'll just kind of go down a rabbit-hole on YouTube looking at different musicians that I haven't heard before trying to find new people. That's just kind of how I find new music.
LL: That's cool. Do you have any other songs you want to share?
JC: Yeah um… this song. That's called "Luh Ya" by Marsha Ambrosius. I actually heard that in Huss, and I was like "Oooh this is a good song," so I shazamed it and now it's on my playlist.
LL: So shoutout to whoever was playing that in Huss.
JC: Yeah. Well it was like on speech day, so it was playing in the auditorium. This is a really good song "Gonna Love Me" by Teyana Taylor. I also hear these on the radio, but like, they're not super popular, but they're on some radios. That's where I get some of them.
LL: That's awesome. Thank you so much for sharing your playlist with everyone today Jane.
JC: Yeah.
LL: Stay tuned for more episodes of Trending coming soon. Thank you for listening.
Leave a Comment
About the Writer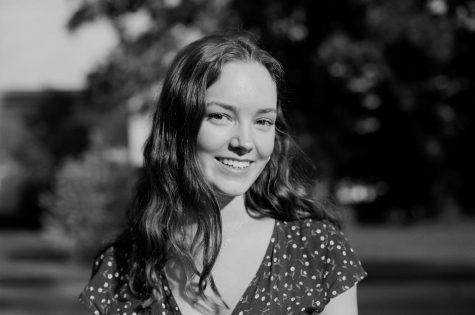 Liv Larsen, Feature Editor
Liv Larsen is a Feature editor on RubicOnline. This is her fourth year on staff. She has been staying busy during the pandemic by watching (too many) movies,...