[TRENDING] Ep. 2 with Rylan Hefner (The Oscars)
"Hi, I'm Liv Larsen and this is Trending. Today's guest is…"
"Rylan Hefner."
"And we're going to be talking about the Oscars, which were this past Sunday. We're going to be going through snubs, winners, and just the top moments and the worst moments. So, do you have any thoughts to start off with? Maybe a category that you had an interesting reaction to?"
"Well, one thing that I found, well, it was very different from other years was how there wasn't a host this year. I thought it worked. It worked well for what they were going for, but I would have liked to have had a consistent host throughout. I did like seeing the various celebrities that presented the awards."
"Yeah, I definitely agree about consistency, but I do think it was kind of nice to have a quicker ceremony this year, where every time after the commercial break they would either go to a performance or an award. It kind of helped speed things up, and you were never really bored, but also I think it would have been nice to have a few more skits or something I don't know."
"Yeah, I agree."
"So, should we start with some of the smaller awards? I don't know. How do you feel about actor in a leading role or actress in a leading role?"
"Well for actress in a leading role, I haven't seen all the performances, but I've heard very good things about all of them, and I would have been happy if any of them won, but I'm very happy that Olivia Colman won, because I loved her in The Favourite, and I think she definitely deserved the award, but any of them would have deserved it if they won."
"Yeah, I hadn't seen The Wife, that's the only I haven't seen, and I was completely expecting it to go to Glenn Close. I wasn't even really paying attention when they gave it to Olivia Colman cause I was like "Ah, it's just going to go to Glenn Close." And then when they called Olivia Colman, I was so shocked, and it was so exciting. Yeah, I definitely agree with you. Actor in a supporting role I wasn't really surprised that it went to Mahershala Ali."
"Yeah. I haven't seen Green Book, but I've heard that he's one of the better parts of the movie."
"How did you feel about Green Book winning best picture?"
"Again, I haven't seen it, so I don't think I can really judge it. However, I have heard the controversy around the story, and how the musician's family is saying it's very fabricated and not truth. I think based on that it might not have been the best choice for best picture."
"Yeah, I agree. I thought it was a good movie. I didn't think it was horrible but considering all of the things that have gone down after the movie's release, and just the fact that it's so skewed to, like, make the white guy look good."
"Exactly."
"I didn't think it would win best picture, but thinking back on it, it makes a lot of sense that the Oscars would pick something like that where it's kind of fake progressive."
"Yeah."
"I was kind of pulling for Blackkklansman, Roma, or The Favourite. I don't know. What about you?"
"I'd seen four of the best picture nominees, and I was definitely rooting for The Favourite. I think it's one of my new favorite movies, just because it's such a unique film and the style and the acting. I think it was just something new that hasn't really been nominated for this sort of award in a while, but I agree that some of the other movies would have been very good choices as well."
"I know, so, there was a lot of controversy about Black Panther being nominated. A lot of people think it wasn't worthy of such a high honor, I guess. How do you feel about it being nominated, and how do you feel about the other awards it won?"
"Well, I did see it, and I really enjoyed it. I think as superhero films go, it was one of the better ones, and I definitely see its cultural significance. I do think there were certainly some better movies out there, but I wouldn't have been unhappy if it had won."
"That's a really, yeah, that's a really good way to say it. Do you have any thoughts on actress in a supporting role?"
"I've only seen one of the films that was nominated for this category, but I've heard really good things about Regina King's performance."
"Yeah, I haven't seen If Beale Street Could Talk either, but I really want to see that, especially after that award. How do you feel about animated feature film?"
"I am very happy that Into the Spider-Verse won. It was, I've seen four of the nominees for that category. The only one I haven't seen was Mirai, and I think of the four that I did see, it was by far the best."
"Yeah, personally I had only seen Isle of Dogs and Into the Spider-Verse, and I was pretty nervous it would go to Incredibles 2, and I don't know whether that's good or bad, I've definitely heard good things about it, but I don't know, I just felt like Into the Spider-Verse was so different compared to most of the movies that have won before."
"Yeah, especially with the animation style which was so, just, unique."
"Do you have any thoughts about directing or cinematography or documentary?"
"Oh, I'm very disappointed that Won't You Be My Neighbor didn't get nominated for best documentary just because I really enjoyed that movie it was just a really sweet tribute to Mr. Rogers."
"Yeah, me too. I really wanna see Free Solo though. I feel like all of the documentary nominees sound look good ones to see. I don't know that much about Of Fathers and Sons or Hale County This Morning, This Evening, but RBG and Free Solo are for sure ones that I want to see."
"Yeah."
"How do you feel about best original song?"
"Best original song. I was pretty sure that it was gonna go to "Shallow" from A Star is Born just because that's one of the most popular songs of the year. However, I was personally rooting for "The Place Where The Lost Things Go" from Mary Poppins just because I love that songwriting team. They also wrote the music for the musical Hairspray, so I was hoping that they would win something, but I'm not surprised and I'm also not disappointed that "Shallow" won just cause I think it's a good song."
"I didn't know that about "The Place Where The Lost Things Go," and I still haven't seen Mary Poppins Returns and I wanna see that. Seeing the performance made me wanna see the movie more too. They performed "All The Stars," right? Was that like the first performance for the songs? Cause I didn't see that one."
"I didn't see that one either. I don't think they did perform it. I think that was the one that didn't get performed, unfortunately."
"That's sad. I saw a lot of pictures of SZA at the Oscars, but I didn't see that performance. Yeah, I agree I was fairly certain that "Shallow" would win, and I'm happy that it won because I really like it."
"Yeah."
"And I thought all of the performances were pretty good. I wasn't crazy about "When A Cowboy Trades His Spurs For Wings," but I also haven't seen The Ballad of Buster Scruggs, so."
"I thought it was, on its own, it was a pretty good song. I wouldn't personally choose it for best original song, but maybe it makes more sense in the context of the movie."
"Yeah, I bet it does. What are your thoughts on, like, representation this year at the Oscars? In terms of gender, race, you know."
"Well, I do think there have certainly been some significant strides forward. I do think Green Book winning best picture is kind of a step back just because it's one of those movies that really paints the white person as the hero of the story, and that's just not where we want the academy to go. I also think it was a little disappointing that all of the directing nominees were male."
"Yeah, for sure. I thought the lack of diversity in terms of race in the acting nominations was pretty sad too. They all had one person of color nominated, and like, at least there were people of color nominated compared to like, 2015 or whatever that year was when they were all white, but seriously one person? I feel like they definitely could have honored other performances. So what are you looking forward to in 2019 for movies? Do you have any hopes? Or the Oscars next year, do you have anything?
"One thing I did enjoy in the Oscars this year, and I'm kinda hoping they'll bring it forward into the Oscars in future years was Amy Poehler, Tina Fey, and Maya Rudolph. I think they would be great co-hosts. I think it was fun to see them as the first hosts of the night, but it would be especially fun to have them host the whole night. just love those three. "
"Yeah, that would definitely be great. Alright, do you have anything else to add?"
"I don't."
"Thank you so much for listening to Trending. Stay tuned for more episodes coming every few weeks. Thank you, Rylan."
"Thank you."
Leave a Comment
About the Writer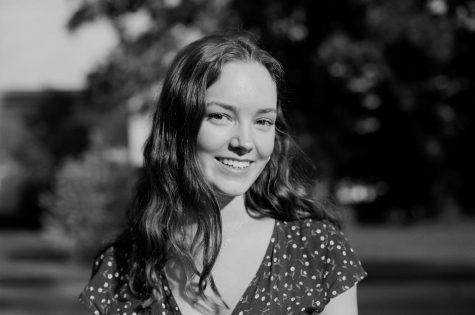 Liv Larsen, Feature Editor
Liv Larsen is a Feature editor on RubicOnline. This is her fourth year on staff. She has been staying busy during the pandemic by watching (too many) movies,...