Then and Now: Katie Brunell and her love for skiing
Her knees buckled as she neared the edge of the ridge. She looked down and took a deep breath before she leaned all her weight forwards, shooting down the polished, white slope.
Senior Katie Brunell learned how to Alpine ski when she was just six years old at Buck Hill in Burnsville, with her younger sister. However, many athletes, in general, learn how to Alpine ski at a much younger age.
"Everyone in my class when I first learned was my sister's age which I really hated because I wanted to be older and cooler and whatnot," Brunell said.
In the beginning, Brunell actually didn't enjoy Alpine skiing. After being forced to take three sets of lessons by her parents, she eventually took a liking to the thrilling sport.
"By the third [lesson] I ended up liking [Alpine skiing] and I've always liked the winter and being outside. It's a good activity to do when it's cold out," Brunell said.
Brunell clearly recalls the first time she accomplished one of the most fundamental yet hardest skills in Alpine skiing: turning.
"There were a bunch of snowboarders sitting on the hill and my options were either to run into them or to turn. I don't know what I did with my legs but I ended up turning and that was the first time I turned," she said.
At only eight, Brunell had already completed all the levels offered at Buck Hill. With her two years of experience, the next step for her was racing. 
"I have one coach named Pete who I still talk to today and sometimes, he lets me ski courses that he set up for other kids which is really fun," Brunell said.
Brunell has dedicated most of her time to Alpine skiing because she is so passionate about the sport.
Buck Hill offers Alpine skiing lessons for all age groups, and Brunell definitely recommends anyone who enjoys spending time outdoors during the winter to try it out.
"It's a good way to make winter more bearable because I think people get into this mindset that you can't go outside in the winter which isn't true at all. I spend all my time outside in the winter. I've thoroughly enjoyed it," she said.
Leave a Comment
About the Contributor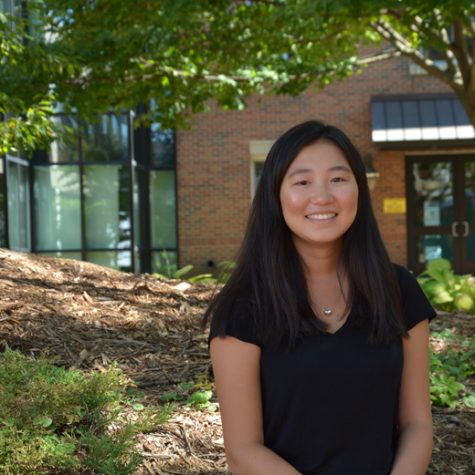 Stephanie Li, The Rubicon, Photo Story Editor
Senior Stephanie Li is The Rubicon's Photo Story Editor. Outside of the print room, she is an avid photographer and considers it a hobby of hers. Her...