The "Loneliest Generation" and the rise of technological life
Our generation—also known as Generation Z—is lonelier than ever. Gen Z include people born in the mid 1990s to mid 2000s. This generation of people is now considered the "Loneliest Generation" according to a study conducted by the health company Cigna, with 48.3 percent of Generation Z-ers responding as lonely, compared to 45.3 percent of Millenials and 42.5 percent of Boomers. The oldest generation alive, the Greatest Generation has a loneliness score approximately ten points below that of Generation Z, at 38.6. At St. Paul Academy and Summit School, students are noticing how being a member of the "Loneliest Generation" has impacted them personally.
"I think sometimes it can just be a cycle of go to school, go home, and watch TV or browse social media and even if you're interacting with your friends it's through a screen and not face to face, so I notice that there's less of going out and doing things together, and if it does happen it's during breaks when we don't have school," senior Micah Gwin said.
News sources and medical studies alike have asserted that loneliness has become an epidemic in our society. It can have serious long-term impacts, and the fact that it is rising in young people does not bode well for the future. A psychology study released by Brigham Young University found that "loneliness has the same impact on mortality as smoking 15 cigarettes a day, making it even more dangerous than obesity."
While loneliness has no specific cause according to the National Institute of Health, some wonder if the rise of social media has contributed to our generation's loneliness. Afterall, building personal connections is much more difficult if everyone is on their phones.
"Personally, I like to interact with people, I have had a lot of friends that are across the country, and I find it hard to constantly keep in touch with them because I'm really quite bad at long distance communication. I think it's a little bit easier for me me personally to maintain communication if I'm talking to someone one on one or if I'm interacting with them not on a screen," junior Nina Smetana said.
Technology and Social Media
As the presence of social media grows in our lives, so does the degree to which individuals digitalize themselves. By being exposed to picture-perfect moments throughout the day, students can feel dissatisfied with their own life and anxious that they are missing out on what they see others doing online.
"
I think there's definitely still a need for face to face interaction, it's okay to do a decent amount of interaction through a screen but at some point you really do want to see other people and do stuff with them."
— Micah Gwin
"Sometimes it happens because of scrolling through social media, because you look at all these people and it seems like they have these lives that are like brighter and shinier, and have all these friends and all these things going on, and it sometimes makes you feel like you aren't good enough, and that's part of loneliness, but it also just kind of hits you sometimes," Smetana said.
Social media does not portray real life because it leaves out all of the parts that the account owner does not want to show. This can increase how lonely others feel because, from an outsider's perspective, the account owner is living the perfect life.
"I think a lot of it is idealistic, what you see [on social media.] And obviously you know what problems you have yourself, but you don't really see that in other people, and so that can make you feel lonely," junior Ayla Straub said.
Senior Phillip Bragg believes that although the internet provides the ability for people to connect across vast distances, it is overall a toxic presence in our lives.
"Social media has been overall a negative thing because everyone puts this emotional value in getting likes and things like that which is kind of toxic, but also, the fact that you can talk to your best friend even if they're halfway across the world is huge. But I still feel like it's done more harm than good," Bragg said.
Connection is an important part of what it means to be human, but Gwin believes that online connection today does not provide the same benefits as face to face interaction.
"I feel like social media, on the surface, appears to connect people, but deep down on a more complicated level it can actually separate us because a lot of the time aspects of people's lives that are 'fake' are the ones that are expressed on social media, and parts of their private life and how they interact with others daily aren't shown at all… I think there's definitely still a need for face to face interaction, it's okay to do a decent amount of interaction through a screen but at some point, you really do want to see other people and do stuff with them," Gwin said.
Smetana thinks that ultimately, screens and loneliness could be solved together.
"If we could use the screen and use FaceTime and all those things correctly, it could be similar [to in person]. If we're able to use technology in a different way than it's used now we would maybe be able to fix that [generation of loneliness]," she said.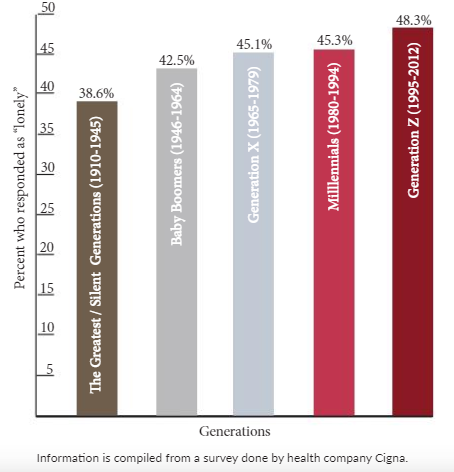 Looking for solutions
During the school year, students can grow lonely during periods when they have a greater amount of work to do and the weather chilly.
"When it comes to school, around this time of year specifically, people are focused on schoolwork and have to get that done. I try to sometimes hang out with my friends outside of school, but that's also difficult because of the season. No one wants to hang out on a cold, Tuesday night. So the weather also makes it difficult," sophomore Michael Moran said.
According to the American Psychological Association, loneliness is a natural response to certain situations. Emotional and social isolation are separate situations, meaning that someone can feel lonely or isolated even if they aren't being isolated by their peers. For example, facing a difficult problem can invoke feelings of loneliness even when surrounded by friends and family.
"Usually when I can't figure something out, like whether it be a subject in school or any kind of problem, I feel like it's me that doesn't understand it and I don't know how to figure out the solution and then I feel like I'm the only one," Straub said.
Bragg believes that loneliness doesn't arise from physical isolation, because some people need time to themselves to restore their energy. For Bragg, loneliness originates from a feeling of failure and he believes that it can be a self-perpetuating cycle.
"I'm most lonely when I've failed at something, or I'm in a bad mood and it's being made worse because I'm not talking about it," Bragg said.
Sometimes all that's necessary to break down feelings of isolation is to reach out.
"
Usually when I have a problem, it's not really that I don't understand it, it's that I feel like I can't find the solution."
— Junior Ayla Straub
"If it has to do with school, I'll go ask the teacher for help, or my parents. Just talking to somebody about it, talking through it,"  Straub said. "Usually when I have a problem, it's not really that I don't understand it, it's that I feel like I can't find the solution. So if I can talk through it with someone, no matter what kind of problem it is, it usually helps."
However, when loneliness isn't incited by a specific problem, battling it can feel less straightforward.
"If you feel like people aren't as willing to talk because of the work, working with people while talking, at least to some extent, can work… I feel like that's a really good way if you need to connect with people," Moran said.
When students turn to the places and moments they feel most connected to others such as extracurriculars, it can alleviate their feelings of loneliness.
"I feel most connected to those around me when I am playing sports. When you're on the team, you're doing work together, but it's also fun, and you're working together to accomplish a goal," Straub said.
It is also possible to combat loneliness individually, through a devotion to hobbies.
"I listen to music. I like music that tells a story because then you can listen to the story and focus on that," Straub said.
Leave a Comment