The Laramie Project cast begins rehearsing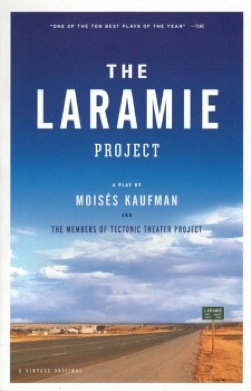 The Laramie Project will be the first Upper School play in the new Huss Center, and will give a much different experience than plays performed at the Sarah Converse on the Goodrich Campus. "It's a unique space that we will get to play around with," freshman Max Moen said. This will be Moen's first year in an US production, and he is part of Laramie's ensemble cast.
The cast read through the play a few times before taking a hiatus from rehearsals while the Middle School took the stage for their fall production..
The play is based on the true story of the murder of Matthew Shepard, a gay college student in Laramie, Wyoming in 1998. His death brought national attention when the murder became a symbol for hate crimes. However, the play focuses mainly on the townspeople's reaction to the murder rather than the actual events. The play's dialogue is taken from "actual interviews with townspeople and transcripts from court hearings," senior Maggie Vlietstra said.  She plays 4 different roles in the production.
Performing The Laramie Project spreads word of hate crimes that have consistently appeared throughout history. "This story needs to be known- you know the saying about those who fail to learn history? This event is something that has unfortunately, been repeated multiple times to different people all around the world." Moen said.
Design for The Laramie Project will take advantage of the new features of the Huss Center stage: "It's an honor and a privilege to work in such a beautiful space," US Theater Director Eric Severson said.
"
It's better to have a space built for our purposes,"
— senior Maggie Vlietstra
With the Huss Center right next door to where classes are, it's more convenient than bussing the whole cast and crew over to the Goodrich Campus in past years. Even the small parts of performing in a new theater are different, like the chairs. "At Goodrich they had the old wood chairs, so when there was a silence all you could hear was the creak of the chairs," Vlietstra said.
"It's nice to be performing in a space that's designed for everything," Severson said. The Huss center has more facilities than The Sarah Converse Auditorium, and has a bigger stage. "The Huss Center has a lighting and a fly system," Vlietstra said.This year there are 32 students in the large cast, and The Sarah Converse Auditorium doesn't even have a backstage or changing rooms.
"[Performing in the Huss Center is] very exciting," Vlietstra said. The cast began rehearsing on the main stage on Oct. 24.. Overall, the cast and crew seem happy about the play. "It's better to have a space built for our purposes," Vlietstra said. The Laramie Project performances take place Nov. 20 at 7 p.m. and Nov. 21 at 7 p.m. Admission is free.