Talking Twins: Buxton re-signs, sets up season for Minnesota
Verhey: Okay. Hello, everybody. Welcome to the podcast. So I'm Tommy Verhey. I'm joined with Nelson, also known as Nelly Wodarz.
Wodarz: Hello Tommy.
Verhey: And we're gonna be talking about Byron Buxton today. So recent news out of Minnesota, Byron Buxton has signed a $100 million contract over seven years, with a $100 million signing bonus, $100 million all guaranteed, and an annual salary of $14.28 million. So Nelly, what are the thoughts here big Minnesota Twins fan, big sports fan in general what do you think and when you hear this news?
Wodarz: I like it. I like the news. Byron Buxton is a very huge piece to our team. He provides a good speed to our team. He's been batting Well, this last year. I believe he batted over almost 300 or 300. He 's been a key part of our team and we are going to need him down the line. Growing up a Minnesota Twins fan like I've watched the Joe Mauer contract I watched. I watched some big contracts happen, and this is I think this is gonna go down as a big contract when it's all said and done because Buxton's, a special player. The one thing I am worried about as a Twins fan is he's only played over 100 games one season and he's constantly been hurt. So I don't know if that's gonna be a problem. I hope it's not a problem because if he's healthy The Twins are… He's a huge asset to the toilet.
Verhey: So yeah, you know, looking back on the past to the Minnesota Twins, you know, drafted him in 2015 and, you know, I mean, him being the second overall prospect in that draft class just behind Carlos Correa who obviously turned out really good. You know, I feel like it's a great move for the twins to just take one big step forward and finally lock him down because I know there's a lot of contract issues and disputes over the past year so how are you feeling about finally getting those out of the way and just getting them all locked up for the year?
Wodarz: I mean, as I said, I've been a twins fan my whole life. So I've been looking forward to Byron Buxton since when he was in the minors, he was the big prospect. He was, he was the guy and everybody was waiting until Buxton would finally make his debut when he finally did and it started out rough, but he really came to it. He's been a huge player for the twins, but there was a lot of those times where you thought he was gonna go to Philadelphia or you thought he was gonna go to the Yankees or something like that. And I'm glad he ended up staying in Minnesota. I mean, he obviously could have gone a lot of places other than here, and I'm glad he got to have the opportunity to stay here and we actually put their money forth to get him and keep him home.
Verhey: Oh, yeah. Um, so basically this past year, you know, twins finished fifth of five in the American League Central Division, just two years after finishing first two years in a row, and then getting swept in both the Divisional Series and the Wildcard Series by the Astros and the Yankees after just great seasons that just did not come to anything. So, you know, especially losing players like Jose barrios and Nelson Cruz, what's the what's the lookout for this next year? How do you think we do with this new sign and then just like the whole team coming back together, especially with Buxton and it's just such a key part in the lineup?
Wodarz: I mean, I think it's gonna be a rebuilding year for the Twins. I mean, last year was a rough year, nobody was expecting it. We brought back almost our whole team and they, they really just didn't click some guys the bats weren't going. And that's how it's gonna go some years and that's how it happens. But I think if we were to stay to it, Rocco is a great manager, He's been AL Manager of the Year in the past so we're going to be just fine. I think this is going to be a building year. I definitely do not think we're going to finish five of five again, that was a huge disappointment for the team, but I think we're gonna have a good squad. Uh, maybe we'll make a playoff push. Hopefully, that's what we're all hoping for. As a Twins fan, we've seen a lot of years where we get a playoff push, so hopefully, we can figure something out, because, in my lifetime, I can't remember a lot of playoff games that the Twins have won, if any. So yeah.
Verhey: Let's go back to the Rocco Baldelli thing. So, basically, the first year managing the twins, he goes 101-61, one of the best records and all baseball, Bomba squad is finally heating up, you know, most home runs in team history. And then this year, he goes 73-89. So kind of like what's the vibes around that, you know?
Wodarz: I mean, the vibes are definitely down like you definitely never want to see that. I mean, that Bomba squad season was a huge season. I mean, every Twins fan around our age can remember that. I mean, even if you're not a Twins fan you remember that year, and last year was like I said, it was a rough year. I don't think it's on Rocco. I don't think it's on Rocco, but I think he definitely has a lot more pressure this year than he has in the past. I mean, he's only been our manager for what three, three years?
Verhey: Three years, yep.
Wodarz: Yeah. So I think he has more pressure now because he's on the hot seat. Because if he doesn't, if he gives us another season like that he's gone, so I mean I hope we can put something together this year and like make it special.
Verhey: Yeah. And then we also got you know, outside of Buxton, we have eight other players who need to play on the field at one time. So how are we feeling about the rest of the team coming up for this next season? You know, Kepler, I know Jorge Polanco was basically the best player on our team in almost every single stat you know, our rotation struggling and bullpens not very solid. We kind of play like a two catcher type system with Jeffers and Garver. So what do you thinking that we kind of do with the rest of this team here especially with the loss of Nelson Cruz and Jose Berrios who were just two key parts of our lineup.
Wodarz: I mean, right now it's the off-season, perfect time to bring in some guys, some unfamiliar faces. I mean, the twins are on the hunt for the guy who won the Cy Young last year. That's huge. Our bullpen really did struggle last year. And hopefully, we can just get it together. Keep some guys, keep some familiar faces for some chemistry and I feel like we can really, we could do something this year. I think the bullpen is definitely going to be an issue. That's going to be our Achilles heel on the team. But have you got a guy like Kapler, he's a vet, he knows what he's doing. He didn't have the greatest year last year, but he knows what he's doing. He knows he can put it together. And I think he definitely will put it together this year after what happened last year. Polanco was just an all-around great player. I mean, we lost him in that Bomba Squad season. We lost him for a good amount of games with the PED suspension. Um, also, I think we got one of the best outfields like based on athletes, in the American League.
Verhey: Even Jake cave?
Wodarz: I mean, Jake Cave, he's not an everyday guy. We switched it up, but we got Byron Buxton. Max Kepler. I mean, Jake cave, he brings something to the table, okay.
Verhey: Maybe it's time for Minnesota, you know, go with two big outfielders this free agency.
Wodarz: Yeah, yeah.
Verhey: I mean you already got Buxton, but might as well fix up the right field.
Wodarz: When it comes to the catcher's Mitch Garver lead catchers and home runs, what two years ago like I think we'll be just fine. We also got Miguel Sano, hopefully he can finally wake his bat up. I mean, we've been waiting for his whole career for him to get his bat going, but I wouldn't be surprised if he hit a few Bombs this year.
Verhey: And Sano was on that list with Buxton. Where Buxton ranked number two in prospects. I'm pretty sure Sano was like 10 to 20, somewhere in that range. So hopefully he picks it up too and we can lock him up for another big contract, just like we did with Buxton.
Wodarz: I mean, I mean, you don't want to lose them. Like we lost Big Papi. I mean, we had David Ortiz on our team. We didn't let him swing away. He goes to Boston, he swings away, he becomes one of the greatest home run hitters of all time. But we can't have that happen again, we need to lock down Sano. Even if he's in a bad stride, he's a key part of our chemistry on the team. You know, he's a vet, he's been around for a long time, and a lot of the guys know him, a lot of the fans know him and love him. I know I had his jersey when he first came up, so I'm a huge fan, and I'm excited to see what he can do.
Verhey: For sure. All right, Nelson. It's been a pleasure.
Wodarz: Thanks, Tom.
Verhey: Great talking about baseball and see you later.
Verhey: All right. Hello everybody. Welcome back to Talking Twins podcast. Um, I was recently joined by Nelly Wodarz, but now I'm here with Greta Magnusson. Hello Greta.
Magnuson: Hi Tommy.
Verhey: Um, so today we're going to continue our talk of Byron Buxton signing with the Minnesota Twins, um you know, these past few years he's only been making around $3 million every season but he just signed a blockbuster 100 million dollar contract to recap for our viewers. Um, so basically Greta, you know, big Minnesota sports fan in general. How are you feeling about this? You know, we've had a lot of pretty bad years and our past time through you know, the wild, the Vikings, the twins just keep losing in the first round of the playoffs or just not making them at all. So how are we feeling here?
Magnuson: Um, I'm actually excited about this deal. I think that the twins need a superstar and I think Buxton could do it, but he is a little unreliable with just how much he gets hurt. And like his hitting has definitely improved. But like, in the 10 years that he's been here, I think that it's been a little shaky, but he's an insane centerfielder, so I definitely think that he could help the twins win more games, and I think we kind of need a superstar to cheer for.
Verhey: Yeah, and talking with Nelly earlier we pulled up the statistic that he's only played one season over 100 games out of 162. So, does that kind of ring the alarm bells in your head? You know, this past season he did hit .306 which was his career-high and one of those top leaders in the league, but only in 61 games Played, so how are we feeling with all these missing games? You know, like, what's going on there?
Magnuson: Um, I think that with all the missing games, it definitely makes them more unreliable and a risk, but it's not really my money so I don't really care, but I think it's a good idea because it helps like the fan base, Definitely, And like I think we need more people to like care about the twins rather than just be aware of, I would say.
Verhey: Yeah, you know, I mean, I feel like, over the past couple of years, I don't know how many twins games you've been to personally, but I feel like the attendance has been really down. You know, the team's just kind of in a bad point of their history right now. You know, they haven't really done much, they got swept the past two years in the playoffs; they're just not in a good area or place as a team. So I wonder what you think about this with the new signing. How can that kind of help? You know, we were always nervous this whole year about losing Buxton, so how does like finally locking him up help do you think like the attendance and like how the twins will be doing financially for the rest of the season?
Magnuson: Oh, I think that it definitely helps like the media base of it because I think there are a ton of fans that are excited about the new signing, especially with the idea that he might get traded or might leave, but he's been here for like 10 years, I think. So I think that he's definitely helped create like a fan base and like, I think the twins need someone to lead them out of the kind of like drought that they've been having, and I think Buxton could be the person to do it, I just hope that he stays healthy and doesn't get injured.
Verhey: Yeah, and remembering back to the Bomba Squad era when the Twins hit the most home runs of any team ever in one season, You know, Buxton only played like 80 games that entire year. So without him, the team can produce but with him added on, Do you think that that really just like helps kind of grow the team culture as a whole and grow the team? Overall like how well they do?
Magnuson: Yeah, I definitely do especially with his speed. I mean, he hit an in-the-park home run, I think it was a couple of years ago, and I think that's something that can't be ignored. He also brings up the energy a lot, because he's injured, the games that he's there they announce and like it's known. So I hope that he can just stay healthy and keep playing to really help the team both with energy and with skill.
Verhey: Yeah, cuz I remember just thinking back to the start of the season, you know, the first like 40 games that he played the twins were on fire. We're a great team. I think we were something like 30 or maybe like 25-15 and we ended up finishing the season well below .500, and then last place in our division. So hopefully, you know this signing will lock them up for a while, he stays healthy and gets back on the grind with the team. So thank you, Greta, for all your insight and we'll be back next with Johnny Christakos.
Verhey: All right now we finally have our final guest of the podcast today I'm joined by Johnny Christakos Hello, Johnny.
Christakos: Pleasure to be here. Thanks for having me.
Verhey: Okay, so we're still on the topic of the Byron Buxton podcast. You know, signing a $100 million deal over seven years for any viewers that are just joining us right now but, so Johnny How are we feeling about this, you know?
Christakos: Oh my God, I am stoked you have no idea. Look, this entire year I've been stressing out over the twins throwing some money at Buxton, right because without him who's filling in that centerfield position, we know that twins don't have a great record in free agency, so seeing them make this move was really reassuring, and it was an absolute steal, you know, 100 million, 7 years, What is that 14 A year?
Verhey: Oh, yeah,
Christakos: That's insane for a guy as productive as Buxton. Not only defensively but offensive stats, picking it up, it's looking good.
Verhey: I mean, all guaranteed as well, but I feel like you know, it was worth it for sure. You know, just to finally lock him up. Better to have Byron Buxton out there than Jake cave.
Christakos: Oh 100%, I hate Jake Cave. And I mean, the only worry I have is, you know, injuries but as long as he can stay healthy if we get them for a full season that's an MVP candidate right there.
Verhey: Oh, yeah. You know, I think he hit just over .300 This year you know, leading that average for most of the league but it was only in about 60 games so you know that's a very big worry. I interviewed Nelly and Greta before you and that was one of their main concerns that we talked about a lot, was just, you know, Buxton's only had one season over 100 games played in his seven-year career in the MLB. So it's just a little bit scary for Twins fans.
Christakos: Yeah, you know, it's always worrying but you got to look at the fact that I mean, just look at the month of April for him, right? Imagine a year of that kind of stats. He batted what .347 with like seven tanks or something like that?
Verhey: I think he got up to .400 at some point too.
Christakos: Yeah, exactly. It was is absurd. So if we can see productivity and efficiency like that for months on end, that is a game-changer for the Twins.
Verhey: Yeah. And hopefully, you know, comes together with the rest of the team and gets the other bats going, you know, Sano, Kepler, all those dudes had some pretty bad year this past year, especially after getting swept two years in a row.
Christakos: Yeah.
Verhey: It will hopefully. Could give us that playoff push, especially after finishing fifth in the division, you know, yeah, exactly.
Christakos: How long has it been since you won a playoff? Game?
Verhey: It's been a couple of years
Christakos: Like 2005 crazy like that. It's embarrassing.
Verhey: Yeah. I mean, hopefully you know with this new signing it'll instill some confidence in the fans and in the players to just, you know, pick it up.
Christakos: Yes, sir. We need to fill those seats up at Target stadium.
Verhey: Hopefully, the twins don't stop just with Buxton and add on a couple of new assets, especially with pitching relievers, starters.
Christakos: 100%. I've seen a lot of rumors surrounding Carlos Rodin.
Verhey: Oh, that would be amazing. A top MLB pitcher, that would be a great sign.
Christakos: Yeah I'm looking forward to that.
Verhey: Yeah. All right. Well, Johnny, it's been a pleasure. I appreciate your time.
Christakos: Of course.
Verhey: This has been the Talking Twins podcast. Thank you and good day.
Leave a Comment
About the Contributor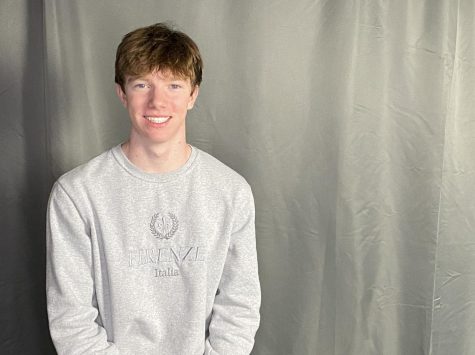 Tommy Verhey, Director of RubicOnline
Hi, my name is Tommy Verhey. I am currently the Director of RubicOnline, and have served as the Beats Manager of the RubicOnline and The Rubicon, the Sports...