Spring season playoffs bud hope for state
With exams and summer looming, the end of the short spring sports season can be very abrupt. In almost every sport, the season is ended with a section tournament which can mean that one loss can represent the last time that seniors take the field, course, or court. For two teams, the season has already come to an end however the expectations were very different.
For the softball team, sophomore Isle Graupman said, "We lost our first section game. We had a tough year, so we didn't think we were going to make it too far […] Next year, we will hopefully win a couple more games."
The baseball team, however, had large aspirations. Before their first game this past Tuesday, sophomore Levi Mellin said, "We are seeded fifth, and our first game is against Nova. I think we will have a great tournament if our bats come through because we are very sound defensively. If the cards fall right, we have a great chance at making it to state."
However, the team fell short, being upset by the 12th seed underdog Nova Classical Academy, losing 3-1 in the first round.
Mellin said, "This was a great season with an unfortunate ending. We put it all into the game, however, the weather was not in our favor […] it's just not how we expected our season to end."
For other teams, the dream of winning sections and advancing to state is still alive. Junior boys' golfer Quinn Appert said, "We hope to get to state. Our team has a lot of confidence and swagger that will definitely help. There are a couple of teams that are really good in our section which could hurt, but I think all of us guys believe we've got a decent shot at making a deep run."
Senior girls' golfer Lily Nestor said, "We've done well in the past, so hopefully this year should continue that precedent. Our team likes to focus on having fun more than being deadly serious. While it is a serious event, it's better to see it as an opportunity to get out and play golf rather than life and death."
"
it's just not how we expected our season to end."
— Sophomore baseball player Levi Mellin
The track and field team finished their team sections last Thursday and will now turn their focus to the individual events. Junior Eric Bottern said, "Individual section meets are May 30th for Prelims and June 1st for the final events. Right now, we are past team playoffs, and just focusing on getting individuals into the finals […] We didn't do as well as we hoped in the team finals. We were a little short on numbers which made it hard for us to get as many points." Despite the disappointing results, Bottern remains optimistic: "I hope I get to finals for discus and shot put, and next year I hope to make state."
With some of these optimistic teams, there are also less hopeful teams that are focussed on just winning a couple of section games.
Junior boys' lacrosse player Duncan Fleming said, "It's been a tough season, our team has only won one game. I'd be happy if we are able to move on to the second round of sections.''
"We get seeded for sections this weekend. I think we will be in the middle of the pack," junior girls' lacrosse player Helen Bartlett said, "I hope we make it to state, but as of right now that might be a bit of a stretch."
"We didn't do that well in the tournament last year, so hopefully we can improve," sophomore girls' ultimate player Aman Rahman said. In ultimate frisbee, there are no section tournaments and instead, teams are separated into three division with the first division having the best teams. "We are hoping to qualify for the first division," Rahman said. "One thing that has helped us is that we are a relatively new team, we started two years ago, so a lot of teams overlook us which gives us motivation."
Sophomore boys' ultimate player Gabe Ramirez said, "Our playoffs are exams week, so that stinks. We have one more regular season game this week and that will decide whether we play in Division 1 or Division 2, so it's very important."
While some of these teams have not begun sections yet, one team has already won theirs. As the boys' varsity tennis team won their 14th consecutive section championship. "We won our section so we are going to state. We've won the section for a long time so it's become sort an expectation," sophomore tennis player Jax Wittenberg said. As for his expectations, Wittenberg believes the team has a good chance of taking home the championship. "Rochester Lourdes will be a tough challenge but if we play well I think we can win state."
The team will begin state on June 4th at the Reed Sweatt court.
To follow these teams through their section run, and for game times you can click here.
Leave a Comment
About the Contributor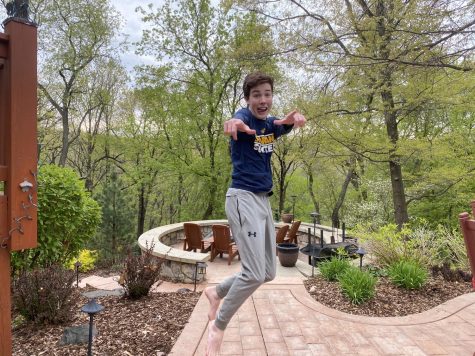 Bobby Verhey, Rubicon TV Executive Producer
Bobby Verhey is the Rubicon TV Executive Producer on RubicOnline. This is his fourth year on staff, previously working as the Sports Editor and Social...