[SPA THINKS] What makes you nervous about school?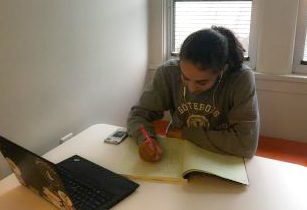 Hang on for a minute...we're trying to find some more stories you might like.
The first five-day week of the school year finishes today, but already some stress creeps into the daily routine:
"I am nervous about my first round of midterms and receiving my first GPA." – 9th grader Becca Richman.
"I'm most nervous about keeping a job while also keeping good grades because… that's a big-time commitment and I need to get better at managing time and when I do homework and when I can work." – Junior Will Shrestha
"I'm nervous for the workload because I've heard junior year is really hard. I'm also nervous for the standardized tests we have to take this year." – Junior Olivia Lagos
"
I'm trying to make sure I have time."
— Liam Lynch
"I think just getting all of my homework done because so far it seems like it's a lot more than last year." -Sophomore Divya Bhargava
"Trying to fit in the tests, like PSAT, SAT, and ACT, while not disturbing my school year too much… especially my second semester it gets very busy because I'm on the tennis team. I'm trying to make sure I have time."- Junior Liam Lynch