[OSCAR REVIEW] Elvis: Controversy follows the King of rock and roll
Elvis is a biographical drama that tells the story of Elvis Presley's rise to prominence and superstardom through the lens of his manager, Colonel Tom Parker. Austin Butler stars as Elvis, Tom Hanks as Tom Parker, and Olivia DeJonge as Priscilla Presley (Elvis's wife). Since its premiere in June 2022, Elvis has acquired numerous accolades and eight Oscars nominations, including Best Picture and Best Actor (Austin Butler).
The film begins in Memphis, Tennessee, from Tom Parker's perspective, when he learns of the young Elvis. From there, a complex relationship between the musician and his manager unfolds as Parker eventually takes on a parental and financial role in Elvis's life. In his ominous narration, Parker frequently speaks directly to the audience, referring to Elvis's fans as "you," making viewers feel intrinsically involved in the story. Elvis provides an insider view into the King of Rock and Roll's life, layering his growing fame in the 1950s and 60s with controversies over his provocative dancing, a brief stint in the military, and his relationship with his wife, Priscilla Presley. Combining occasional flashbacks to Mississippi (where Elvis was born) with a more chronological portrayal of Elvis and Parker on their many United States tours and later shows in Las Vegas, the film effectively demonstrates Elvis's deterioration from a rising star to a tired musician as he continues on the same routes with less appeal each year. Director Baz Luhrmann also weaves in the historical context of the 1960s, including Martin Luther King, Jr. and Robert F. Kennedy's assassinations and the civil rights movement.
"
The most moving scenes occur during Elvis's decline before his death in 1977: as the once-idolized musician's image slowly crumbles, viewers finally understand how little fame should be desired.
Austin Butler skillfully portrays Elvis's internal turmoil: his aspirations of notoriety, anger at Tom Parker's deceiving role in his life, rebellion against authority, and an overwhelming sense of isolation. Butler dedicated himself so strongly to his role that he reportedly still cannot shake Elvis's voice. The most moving scenes occur during Elvis's decline before his death in 1977: as the once-idolized musician's image slowly crumbles, viewers finally understand how little fame should be desired, and these moments are where Butler and Olivia DeJonge shine. Alongside Butler, Tom Hanks encapsulates the calculated, manipulative Colonel, though his unclear accent distracts from his evilness. The problems in this movie have little to do with its starring actors and much more with the decisions behind the scenes.
Elvis runs for 2 hours and 39 minutes—an excruciatingly long time, considering that Luhrmann overlooked a few crucial details: did Elvis steal the lyrics to some of his most famous songs from Black musicians he grew up hearing, as the movie seems to imply? Even if he didn't steal their music, was he so involved with up-and-coming Black musicians, and was he actually the social bridge between Black and white listeners? Also entirely omitted was the ten-year age gap between Elvis and Priscilla and the fact that when they first met, Elvis was twenty-four, and Priscilla was only fourteen. These unresolved questions leave a confusing view of the beloved yet controversial musician. Instead of overdramatizing scenes of Parker gambling or endlessly bedazzled montages of Elvis's erratic dancing, Luhrmann could've better explained these themes.
Despite this, Elvis is an engaging and informative watch. Elvis's electric stage presence is part of it, but the contrast between the Elvis the fans adore and the one who eventually relies on pills to get through performances is especially memorable. His public and private personalities echo how most modern celebrities aim to depict a perfect image to appease various audiences—Elvis hides his vulnerabilities to continue his career. Even though fans don't know the extent of his problems, Elvis's public persona still provokes controversy, and the crowds love him despite this. The cinematography is noticeably unsteady, often spinning, cross-cutting, and showing multiple panels, montages, and close-up and reaction shots; Luhrmann suffocates the screen with glitz and glamour. Perhaps that's his style, but only then does the audience understand how overwhelming Elvis's life was, and no scene is left unadorned. The hair, makeup, and outfits accurately reflect the time and Elvis's notoriously unique fashion.
Elvis tells the story of the King of Rock and Roll, the best-selling music artist of all time, and how he was manipulated and used. Fame isn't what his fans imagine; it means forgoing control and autonomy. Elvis remains an enduring musical figure, but he was also young and easily exploited by money-hungry adults.
This movie is perfect for Elvis fans and all music lovers. Elvis is rated PG-13, and is a good film for any family wanting to learn more about Elvis or the history of rock and roll. Even though it has its flaws and omissions, Elvis asserts Elvis's status as the King.
Leave a Comment
About the Contributor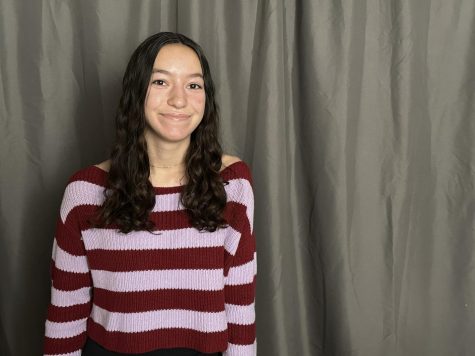 Sonia Kharbanda, Staff Writer
My name is Sonia Kharbanda (she/her). I'm a Staff Writer for The Rubicon and RubicOnline this semester. At school, I'm involved in the soccer and track...