[OSCAR WINNER] The Whale: A Big Hit?
What does it mean to be a whale? Besides being the largest mammal in the ocean, "whale" is used to define someone who pursues something passionately but without success.
This definition aptly defines Charlie (Brendan Fraser), a morbidly obese, 600-pound, middle-aged man and the main focus of the film The Whale. He teaches online English courses for college students, but in every Zoom meeting, his camera is constantly off, and Charlie always has the same excuse: "it's still not working."
But when the audience first sees Charlie, we get to see all of him: his body bloated and swollen, sitting deep in the corner of the couch with severe chest pain. His only friend Liz (Hong Chau), frequently comes to check on him and care for him. One day, Charlie's long-estranged daughter, Ellie (Sadie Sink), shows up at his home, but their father-daughter relationship contains lots of tension due to them not seeing each other for the past eight years.
Almost all of the shots in the movie are in the same place, and the camera angle is always in a similar position, which makes the movie more repetitive and predictable. However, one thing that director Darren Aronofsky got right is the camera quality and lighting. Even those most scenes happen inside, Aronofsky makes great use of lighting to make the apartment feel like a much more immersive part of the story, and the high quality adds a compelling effect.
Though there are some details and lots of emotions in this story, there isn't much depth and thrill. As mentioned above, most of the scenes are in the same exact place, and while that may be intentional, some would probably find that to be very boring. Also, there aren't many characters in this film, however, out of the ones that were included, some of them were not explained enough to fully enjoy them. For example, Thomas (Ty Simpkins), a supporting actor, is introduced in the first 2 minutes of the story, however, the only things we really learn about him are that he is a missionary and that he ran away from home. He appears multiple times in the story after this and even connects with Ellie, however, we never see where that relationship goes and why Ellie was even interested in Thomas in the first place
"
As for the actors, they did an amazing job and performed outstandingly; all they needed was a better movie."
This film is for people who like watching emotional tales of personal affliction and the quest for redemption. However, keep in mind that this film is rated R for language, some drug use, and explicit content.
The Whale premiered in US theaters Dec. 9 and the actors in the film are nominated for various Oscar awards. The lead, Brendan Fraser, won best actor for his work in the movie, and Hong Chau, a more minor actor, was nominated for best supporting actress. The film cost about $3 million to make and grossed more than $31 million in the U.S. alone.
Overall, The Whale has a powerful theme and lots of overwhelming emotions however, there were many parts that could have gone deeper and more details that could have been added. As for the actors, they did an amazing job and performed outstandingly; all they needed was a better movie.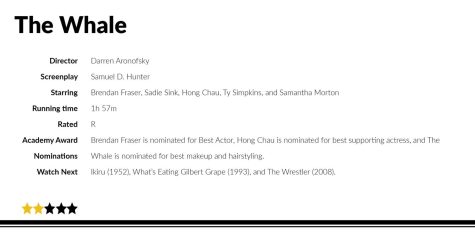 Leave a Comment
About the Contributor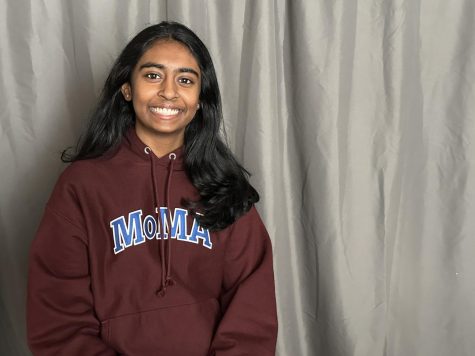 Shefali Meagher, Staff Writer
Hi! I'm Shefali Meagher and I use she/her pronouns. I'm a Staff Writer for The Rubicon and RubicOnline this semester. At school, I'm involved in debate,...