[MUSIC PODCAST] Sih plays the Baroque-n strings of the violin
Elle: [Introduction] Hi my name is Elle. In this podcast, we will hear from senior Kai Sih and their journey playing the violin.
Kai Sih: [Music] I'm Kai, they/them. I play violin and I've played for ten years. I used to play in the Minnesota Youth Symphonies and then I stopped after COVID. I have participated in a few concerto competitions and now I've signed up for a string quartet through Artaria Music.
Kai Sih: Recently for college auditions, I prepared Bach Partita No. 2, and now that I'm done with that, I am working on Nielson Concerto and I've also been trying to write music in more diverse styles. I've been looking at Baroque to the 20th century, and metal and jazz and they're both pretty similar to classical music.
Kai Sih: Violin, there's just so many things to keep your attention on: speed, pressure, every different angle, each different joint in your arm, what part of the hair, what direction it's going, it's just a lot of stuff. I really enjoy it [the violin] as well and it's just a way that I can just play music.
Elle: Once again, I'm Elle and this has been an interview with senior Kai Sih.
Leave a Comment
About the Writer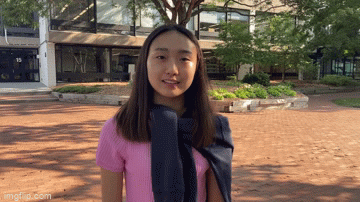 Elle Chen, co-Director of RubicOnline
Elle Chen (she/her) is a co-Director of RubicOnline. This is her fourth year on staff. Over the summer, Elle interned at NSPA to help plan journalism conventions,...