Gathering STE(A)M: design lab caters to student artists
When senior Lucie Hoeschen decided to pinch a needle and thread, she hadn't realized that this would lead her to her Senior Art Seminar project.
Now, instead of a pinch, Hoeschen pushes the pedal of an industrial sewing machine at her home. She plans to recycle and upcycle fabrics to create and design new pieces of clothing as pieces of a collection. While undertaking such a project, especially one that must take place outside of school with her home machine, Hoeschen just recently discovered the Schilling Center Design Labs, and in particular, it's tools for the arts.
While the Schilling center largely centers around its use for math and science, it is just as much a place for student artists as it is for student scientists. Laser cutters, 3D printers, sewing machines, vinyl printers and a myriad of materials are accessible to any student once given the proper training by Design and Innovation specialist Kirsten Hoogenakker.
"A big part of the expansion is just looking forward to what your futures are going to look like and the ability to use these technologies now.  A lot of colleges and universities have these technologies available for a wide variety of majors whether it's for design or the sciences, so I think part of that is a college prep piece, students are going to be able to go into college and already know how to use a lot of this equipment," Hoogenakker said.
"
The Design Labs give me the opportunity to explore technological fields"
— Lucie Hoeschen
Hoeschen hopes to use Schilling Design Labs for their newly added sewing machines to explore her love of sewing. The intersection of technology and art, she believes, levels the playing field for women searching STEM careers, "The Design Labs give me the opportunity to explore technological fields and for other students to utilize those technologies as well. It's especially important for women because it can get women in the STEM field through very basic things like working with laser cutters and other things that can make art."
As SPA has remodeled for the 21st century, it has likewise broadened artistic opportunities for students. With recent technological advances like 3D printed clothing and highly powered computer animation to convey art, Hoogenakker affirms that the Design Labs pay homage to artistic creativity.
"A lot of students here have a desire to create and the art department can only do so much with that and the science and robotics can also only do so much with that, so looking at how that spills over into disciplines like English and History, this ability to something that maybe hasn't been done before is what we are getting at with all of the new equipment."
For students interested in exploring the Design Lab, Hoogenakker has sign-up sheets outside the Design Labs to complete a training session with the 3D printers, the laser cutters, or a general tour that can spark a knack for technology in anyone, even artistic students like Hoeschen.
About the Contributor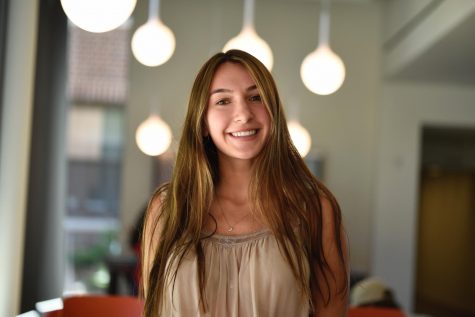 Mimi Geller, Director of RubicOnline
Mimi Geller is the Director of RubicOnline. This is her fourth year on staff. Mimi believes that high school journalism connects people by sharing their...