Drake Gallery showcases work from Senior Art Seminar
St. Paul Academy and Summit School's Harry M. Drake Gallery hosts renowned artists and alumni from all over the Twin Cities, but come the month of May the space hosts the artists from Senior Art Seminar. Seniors have worked on creating artwork ranging from pottery to portraits to timelines for the exhibit. The class is an intensive creative process geared toward selected individuals who have firmly developed skills in one or more of art disciplines.
Senior Lillian Pettigrew's work focuses on different goddesses or historical women and their symbols and stories. Her work consists of three paintings of Venus, one of Freya, a similar goddess in Norse mythology, and also a historical figure; Lilly Citel. Questioning what it means to be an artist, how personality influences art, and the connection between art and the female body brought Pettigrew to the place she is right now.
"I think I have always been interested in that and I've really enjoyed doing faces and portraits. So like the female body and I wanted to explore that with that deeper layer of meaning…I wish I would have done more. I always wish I would do more because I work kind of slowly," Pettigrew said.
For senior Jessica Citron, her final project was not what she expected. Citron started off by knitting a bunch of socks but was told knitting couldn't be all she did for Art Seminar. After many hours of brainstorming, she decided to make a timeline of a random person's life with socks signifying each major transition in their life.
"It was kind of a lot of raging moments that brought me to the clothesline… I was always thinking of what I could add and do to make it better even while I was in other classes. I spent most of my time making it or thinking about for about two months…I wish I had more time to work on the end of this person's life and explain the end of it," Citron reflected.
The works of student art will be displayed until the end of the year.
About the Contributor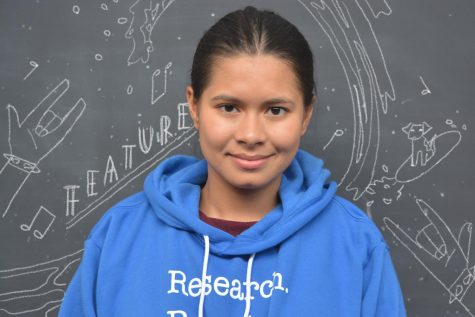 Sharee Roman, The Rubicon
Sharee Roman is the Feature editor on The Rubicon staff in this, her fourth year on staff. Growing up, Sharee was always able to express herself most through...