Lowman curates ceramics show, benefits eyes and brain
When wandering down to Harry M. Drake Gallery, it is easy to become lost in a maze of beautifully sketched mugs, little landscapes that grow out of the walls and abstract glazed pots, cups, bowls, and vases.
US Ceramics teacher Daryn Lowman co-curated the Ceramics Invitational with Keith Williams, and Lowman finds it important to highlight the fact that the show is not said to be a pottery show, but a ceramics show.
"In thinking about this particular space, this venue and this context, whenever we show work we have to be a little bit guarded in what is being shown. In choosing that, we are thinking about diversity, but also making sure that it going to not be offensive to a second grader who is coming in who could be frightened or seeing something that is a challenge for them to see," Lowman said.
The gallery exhibit is not only all ages, but it can be seen as a textbook for a ceramics student.  All of the six artists featured have a different style and use different techniques, making it a convenient way for Lowman to show his students techniques they've talked about in class used by a real artist.
"
The idea of this gallery is to constantly have a teaching tool for the students"
— US Ceramics teacher Daryn Lowman
"What I talked to Keith Williams about  was making sure that we curate this so that the students that are mostly in Middle School and Upper School are being exposed to ceramic work that is traditional but taking that tradition and moving in a direction that is personal. Each one of the artists has a content or a style that I've possibly referenced in my teaching classes," Lowman said.
"The idea of this gallery is to constantly have a teaching tool for the students. We can expose and give our students the opportunity [to see the gallery]," Lowman said. "I'll bring my classes down here and we will talk and look around."
Sophomore Janie Brunell, a current ceramics students, can meander around the gallery and discover aspects of each piece that she likes and has learned about in ceramics class.
"I can tell that [in this piece there are] a couple parts that were done on the wheel, but the handle had to be sculpted or carved. It's cool that they incorporated a bunch of techniques to make a piece," Brunell said about a vase in the show.
It is this exact, meticulous observation that Lowman wishes to see all of his students practice. He hopes that as students develop their ceramic skills, they continue to incorporate basic techniques and to eventually practice more individualized expression on the wheel.
"The hope is when a student takes a ceramics class is that in the beginning, I'm taking them through  sequences or projects and techniques that they can work on that I'm designing," Lowman said. "But as they become more advanced, the hope is that they start to develop their own voice. I think [this particular gallery is important for students to see because] they are exposed, and realizing that the identity and umbrella of ceramics is one line."
The Alternative Traditions Ceramics Invitational will be open through Nov. 22.
About the Contributor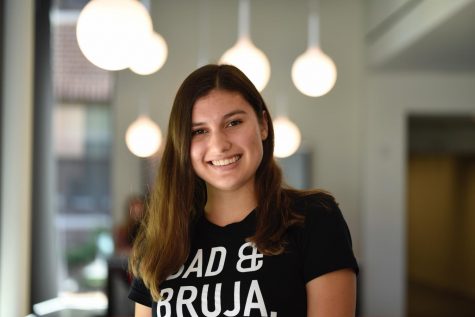 Isabel Saavedra-Weis, Opinions Editor
Isabel Saavedra-Weis is the Co-Editor of Opinion on the RubicOnline. She also is behind the blog No Right Answer. This is her fourth year on staff. Recently,...