[GAME REVIEW] Rocket League Sideswipe scores with clean mobile gameplay, perfect graphics
Developed by Psyonix and released on Nov. 15, 2021, Rocket League Sideswipe has taken the world by storm. Unlike its predecessor, Rocket League, which was only available on PlayStation, XBOX, and PC platforms, Sideswipe is downloadable for free on Apple or Android devices in both the app store and the play store. This grants more accessibility to the entertaining game and proves why it has been able to do so well in the mobile format. In Sideswipe, each player controls their own car, and the point is to play against one or two other players with the objective of scoring more goals. Similar to soccer, one team defends the goal on the left, while the other team defends the goal on the right. Each game takes a total of two minutes to complete, but each time a goal is scored, the clock will stop for a few seconds. Most games are completed in less than three minutes. If the game is tied when the two minutes are complete, players will go into overtime until a goal is scored and a victor is crowned.
Sideswipe has various gameplay options as players can choose between several different modes. In training, players can play by themselves, against a computer-generated player, or undergo a tutorial on essential controls. This mode is beneficial for new players as it allows them to understand the game's basic mechanics before jumping into casual and ranked matches. The other modes consist of duel, a 1v1 mode where players face off against each other, doubles, where players can team up with friends and play against other duos, and volleyball, a new 2v2 mode in which every time the ball hits the ground on one side of the net, a point is scored for the opposing team.
Several different tiers are present in Sideswipe, starting at bronze and elevating up to grand champion. Each tier of rankings has five divisions inside it, and each of those five divisions is made up of three more stages. Each time a ranked game is won, one of the three mini-stage bars will fill up. Similarly, if a game is lost, one of the three mini-stage bars will diminish to a grey color, signifying another game must be won. Once all three boxes are filled with light green, a player will advance to the subsequent division within a tier. Additionally, a player may sometimes drop down or move forward multiple stages after losing or winning a game, usually when on a long win-streak. Each tier contains five of these sets, meaning that when starting at level bronze one, a player needs to win roughly 15-25 games before ranking up to silver one. This pattern stays very consistent throughout all of the different tiers.
Like Rocket League, the game holds both ranked and casual matches, giving users the ability to keep rankings consistent by opting out of a ranked match. Because players with higher ratings can quickly drop to lower levels by losing just a few games, the inclusion of casual games makes the gameplay more lighthearted and fun. Usually, beginners will play casual matches before feeling confident enough to level up in ranked matches.
Sideswipe's variety of customizable vehicle bodies and decals also add to the long list of redeeming qualities of the mobile game, as players have complete control over what their cars look like. Every player automatically starts with four choices of vehicles, including the Octane, Diestro, Dominus, and Aftershock. By winning games and completing challenges, players will simultaneously gain coins and rank up in the Rocket Pass, both of which provide the ability to unlock new decals, wheels, toppers, boosts, and goal explosions.
Even though it is a phone application, Sideswipe has ridiculous graphics that parallel the original game. Additionally, the inclusion of things like the item shop and Rocket Pass helped the game gain traction because of its similar aspects to the original. The Rocket Pass, identical to the well-known Battle Pass from Fortnite, consists of 50 tiers. Each time a player completes an in-game achievement like "Win Five Online 2v2 Matches" or "Score 20 goals," they will receive Experience Points (XP) that will help obtain more tiers. As the Rocket Pass increases, the number of points needed also drastically rises, yet the prizes become much better than the initial levels.
"
[Training mode] is beneficial for new players as it allows them to understand the game's basic mechanics before jumping into casual and ranked matches."
While Sideswipe does have many great qualities and truly encapsulates the perfection of a mobile game, one crucial aspect is missing. In Rocket League, players have the ability to trade items with other players. It is a fascinating format not present in any other popular videogames, giving Rocket League a unique touch. When Sideswipe first came out, most players assumed trading would remain consistent even in the mobile version. Yet, this was not the case. Even as Sideswipe moves forward into the depths of season two, trading has still not been implemented. By bringing this admired idea from the original into the sequel, Sideswipe would present a more engaging player interface that would improve the game's likeness.
The only other negative part of Sideswipe is user data. Even though players are requested to use their Epic Games login credentials when first downloading the app, none of their former decals, wheels, or goal explosions appear in their accounts. While some players enjoy this and view it as a fresh start, others see it as a frustrating experience because so much time and effort has already been put into Rocket League accounts on other platforms, yet none of that work will carry over.
Overall, Sideswipe is an amazing mobile game. The evident attention to detail by Psyonix when developing the game proved to be well worth the effort as the game has soared to the top of the charts on both the app and play store. While it does not compare with the original version of the game, Sideswipe has more than enough features and attributes for any mobile user to be satisfied. The game has officially solidified itself as an excellent game-on-the-go for anyone interested and will likely sit atop the charts for years to come.
Rating:★★★★
If you liked Rocket League Sideswipe, you might also like other mobile sports applications like Retro Bowl or Madden NFL 22 Mobile Football.
Leave a Comment
About the Contributor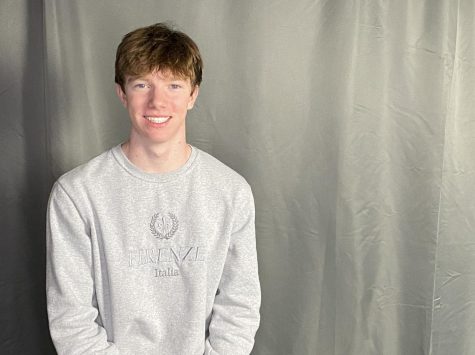 Tommy Verhey, Director of RubicOnline
Hi, my name is Tommy Verhey. I am currently the Director of RubicOnline, and have served as the Beats Manager of the RubicOnline and The Rubicon, the Sports...