Film Club continues movie nights through Netflix Party
In a time when the student body is physically separated and under emotional stress, Film Club tries to bring back some sense of normalcy and community.
The club, known for their Friday night screenings of previously decided on movies, attempts to carry on this tradition through the Chrome extension Netflix Party.
"Martha [Slaven] and I were really disappointed that we were not going to be able to finish out the year with the movies we planned on showing, and we were also really missing our Friday night traditions," former Film Club president Anjali Tadavarthy said. "We both loved not only seeing new films but the experience of watching them with interesting people…We were thinking about how to show movies. It turns out Nextflix party is the easiest way to both show a movie (non-illegally) and be able to chat with each other."
Netflix Party enables a group to watch a movie together with a chatroom on the side of the screen. The extension has risen in popularity with global stay at home orders and self quarantines.
So far, Film Club has shown "Ferris Bueller's Day Off," "Saving Mr. Banks," "Strictly Ballroom," "The Incredibles 2," and "Groundhog Day," all over Netflix Party.
The stream of commentary in the Netflix Party chat varies from movie to movie.
"When we showed "Ferris Bueller's Day Off" and "Saving Mr. Banks" we had a lot of fun conversations," Tadavarthy said "I think it depends on if the people have seen the movie before and the crowd that shows up."
"
It's the closest thing we can have to in person movie nights at the moment, which makes life seem a little more normal."
— Rylan Hefner
One of those who shows up regularly is Film Club member Rylan Hefner.
"The comments I make are usually just what I would have said had we been watching the movie in person, ranging from admiring the costumes and sets, to making fun of the characters for making bad decisions," Hefner said.
Hefner has been enjoying the opportunity to connect during this time.
"By all watching the movie at the same time, it makes you feel more like you're together," Hefner said.
This was one of Tadavarthy's goals in starting the movie nights.
"Martha and I were really trying to not only bring the community together for some social interaction but also provide a distraction from our current situation. We both love hanging out and watching movies on Friday nights, we always used to get dinner and snacks, and it was a very social thing for us. We were hoping that with Netflix Party, we would be able to bring just a little bit of that joy back. We also figured that people would have nothing else to do because we are all stuck in quarantine," she said.
"It's the closest thing we can have to in person movie nights at the moment, which makes life seem a little more normal." Hefner said.
Film Club will be showing Monty Python and The Holy Grail (1975) this Friday. Message them at [email protected] for the link.
Leave a Comment
About the Contributor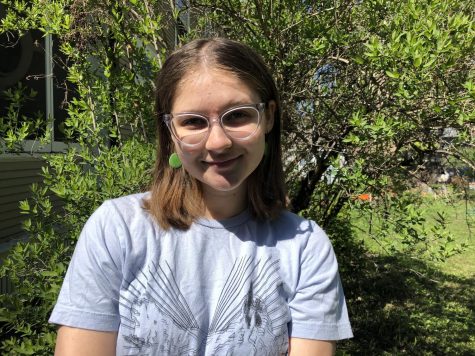 Lucy Benson, The Rubicon Editor-in-Chief
Lucy is the Editor-in-Chief on The Rubicon. This is her fourth year on staff. While following the stay-in-place order Lucy is listening to a lot of music,...