Dawn Wickstrum: starting cornerback in middle school; Director of Athletics today
A season of Friday night lights, first-and-ten. This is an image of young men in a lineup… but for Director of Athletics Dawn Wickstrum, it was her sport of choice. In small-town Wisconsin, she played for Broadhead Middle School in 8th grade, a decision that shaped her career and position today.
Wickstrum had to get approved by the state in order to be able to play. She described the accommodations made for her, including different locker rooms and facilities: "I was just so grateful to have that experience and I was around a great group of guys that sort of accepted me in their world, and I would say that experience really made me an advocate for females and athletics, whether it's professionally, whether you're trying a sport the first time, or anything," Wickstrum said.
Wickstrum grew up playing numerous sports, but playing football was, in part, possible due to Title IX of the Education Amendments Act of 1972, which states, "No person in the United States shall, on the basis of sex, be excluded from participation in, be denied the benefits of, or be subjected to discrimination under any education program or activity receiving federal financial assistance." While Title IX includes all federally funded programs, it is most often associated with sports due to its goal of creating equal opportunities of participation, proportional scholarships between male and female athletes, and equal treatment in funded resources.
As SPA's Title IX Coordinator and representative in the Minnesota State High School League, Wickstrum continues to work with budget managers to ensure that funding is being allocated equally to different sports. Her experiences in a male-dominated sport often at the center of Title IX cases make her a strong advocate for equal opportunities and resources in athletics.
"It's very important that we give the same access to our female student-athletes as we would in males, whether it goes to facilities, uniforms, equipment, or other off-campus facility access," she said.
Although SPA does not have to follow Title IX guidelines because it is not a federally funded institution, the school has a history well beyond Title IX in providing girls sports.
Wickstrum coordinates athletics to create a program that gives fair opportunities to student-athletes regardless of sport or gender.
"One of the top three things was making a program that was equitable, sustainable, and one that kids could have fun in," she said.
Wickstrum's commitment to upholding equal access continues to guide Title IX's impact on athletes in the SPA community.
Leave a Comment
About the Contributor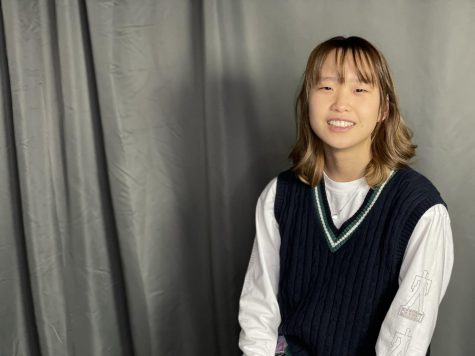 Claire Kim, Opinions Editor
Hi! I'm Claire Kim (she/her), the Opinions Editor for print. This is my third year on staff and in previous years, I was the Music Editor and a staff writer....