Cursive increasingly serves as an art form as daily use diminshes
Through letters that flow together in a never ending line of writing, cursive has been an important form of penmanship for many centuries.
As handwriting becomes less and less apparent in the daily lives of many, cursive seems to be more of a lost art form. The argument of whether or not cursive should still be taught has been an ongoing debate.
Based on a poll sent out to students and faculty in the St. Paul Academy and Summit School community, 63% of people believe that cursive should be taught in schools.
Although encountering a student who writes in cursive is increasingly difficult with typing as an alternative, junior Hendrie Grant keeps a notebook to write in cursive as a way to work on his writing appearance.
"I was taught cursive in second grade, and I was also taught [touch] typing at about the same time," Grant said.
"[However] I don't think it was necessary to learn cursive," he added.
Grant is not the only person to have this belief. In an article published by The New York Times, professor of education at the University of Southern California Morgan Polikoff explains that there is no reason for students to be taught both print and cursive, and that students should be taught what will benefit them in the future.
For sophomore Elise Parsons, cursive has just been naturally used throughout her life.
"I was taught cursive in second grade," Parsons said.
Although cursive has served multiple purposes throughout her education, Parsons realizes the importance of typing and the role it plays in the classroom.
"I was never actually taught to [touch] type. We didn't ever type out our assignments or essays at my old school so there was never a need for me to learn until 9th grade," Parsons said.
"I'm still really slow at it," she added.
"Other than using [cursive] to write my signature or writing to look cool," Grant said, "it has not really been useful to me."
Although cursive doesn't prove useful in his daily life, Grant believes that cursive should be used as an art form taught in fine arts classes.
"It can be used as an art form when using calligraphy, so I think it shouldn't be taught in English classes, but it would be better served in an art class," Grant said.
Parsons, on the other hand, believes that the type of writing depends hugely on what needs to be accomplished.
"It really depends on what you're doing. I prefer cursive for note-taking and creative writing but typing makes more sense for academic essays because it makes editing easier," she said.
For many students, trying to read feedback from teachers who do write in cursive is often difficult and students can have a hard time trying to understand what their teachers are saying.
However, for people who do use cursive often like Grant, it does not seem to be an issue.
"I have [used cursive often], so I am able to understand what [teachers] write," Grant said, "but a lot of the times when teachers use cursive they usually just write sloppily, and then it's hard for anyone to understand, whether they use cursive or not."
Although many people are opposed to the idea of teaching cursive in school, Concordia University gives the case for the opposite. The University said that cursive helps develop fine motor skills, reinforces learning, helps for reading and writing legal documents, and connects students to the past.
For some students including Grant and Parsons, writing in cursive can be used as a creative outlet, but also just used for note-taking.
"I do use cursive on a daily basis. I use it for all my note- taking, annotations, and creative writing,¨ Parsons said.
The days of cursive being used in academic classes may soon be over, but the art of calligraphy will be kept for many years ahead of us.
About the Contributors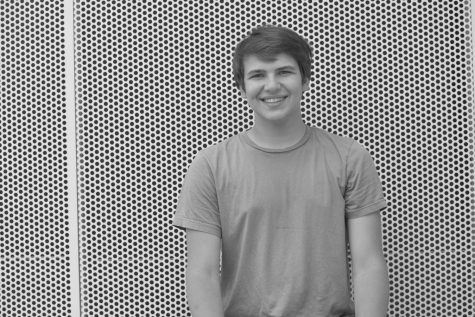 Jonah Harrison, Chief Visual Editor
Senior Jonah Harrison has been a part of The Rubicon staff for three years, and serves as the Chief Visual Editor for the 2017-18 school year. While not...