[CONCERT REVIEW] mxmtoon enthralls audience with incredible performance
"
I love how you all just softened your claps. I've never had a group of people clap all the way through a song before."
— Chloe Moriondo
19-year-old artist Maia or mxmtoon's long-awaited concert on Oct. 25 filled the Amsterdam Bar and Hall with local fans. Doors opened at 6:30 p.m., and as concertgoers lined up, armed with tickets, excited energy crackled in the air. The hall was the perfect size, allowing viewers to get closer to the stage and the performers than a stadium.
17-year-old Chloe Moriondo was the opening act for the concert, running out to the stage in a striped shirt and overalls at just past 7:00 p.m. She played a selection of original songs on her black ukulele, adorned with colorful stickers. One such song was "Road Trip," and Moriondo asked the crowd to clap along to the song.
"It's about being seventeen and still not having a license," she said.
After the song ended and the audience finished cheering, Moriondo said, "I love how you all just softened your claps. I've never had a group of people clap all the way through a song before. Thank you for that. You're the first."
Other songs included "Kalmia Kid" and "Silly Girl," which was originally written about Moriondo's crush on a boy that didn't return her feelings. But for the concert, she changed all the male pronouns to female ones to reflect how she's realized her identity. Listen to more of Moriondo's music on her YouTube or Spotify.
Moriondo finished at 8:00 p.m. and tech managers began to set up for mxmtoon's performance. By 8:30 p.m., fog was swirling around the stage, creating purple clouds against the colorful lighting. The opening chords from "blame game" began to play and the room erupted into cheers as mxmtoon stepped up to the microphone.
mxmtoon sang a variety of songs, mostly from her newest album, "the masquerade," released on Sept. 17. After her performance of "unspoken words," her iconic ukulele came out.
"You probably expected me to pick this up at some point," mxmtoon joked. "You know, you're just like, 'No, actually, I don't think she's going to play the ukulele at all.' That'd be horrible. You all should get refunds if that were the case."
With her captivating singing voice, audience members were enthralled by mxmtoon's songs, singing along to their favorites and giving thunderous applause and cheers at the end of each piece. Her witty comments between songs kept the crowd laughing and engaged. 
mxmtoon also took some time to reflect on how far she's come since she started her music career before she played "late nights," one of her first songs.
"
This song is really special to me because I didn't think that it would ever become something that I could spend time and energy on and then eventually put into my debut album."
— mxmtoon
"I had this demo that I brought onto my SoundCloud in 2017. 200 followers. I thought no one was going to hear. I recorded it on a built-in microphone from my laptop and it was 'late nights are for lonely people.'" mxmtoon paused and smiled as the audience cheered before continuing. "This song is really special to me because I didn't think that it would ever become something that I could spend time and energy on and then eventually put into my debut album. So it's really exciting when I get to perform it with you all tonight," she said.
From 200 followers on SoundCloud to over 3 million monthly listeners on Spotify, the reason behind mxmtoon's success is self-explanatory: she's an incredible singer and songwriter, with a charming personality and a way with the crowd.
Toward the end of the show, for "untitled," mxmtoon asked for fans to turn on their phone flashlights, creating an incredible visual effect. Hundreds of bright lights waved back and forth in the crowd, shining lights on mxmtoon.
Finishing strong with "prom dress," one of her most popular songs with over 26 million listens on Spotify, the show ended with a bang. mxmtoon's relatable experience with loneliness at prom had concertgoers screaming out the lyrics. Finally, as her encore, she performed "Falling for U," a 2017 collaboration with Peachy!, where she sang the lyrics that he wrote.
The concert may be over, but the impression that mxmtoon made on her Minnesota audience won't be forgotten anytime soon. Definitely listen to more of mxmtoon's music, available everywhere. She is sure to make more incredible work in the future.
Leave a Comment
About the Contributor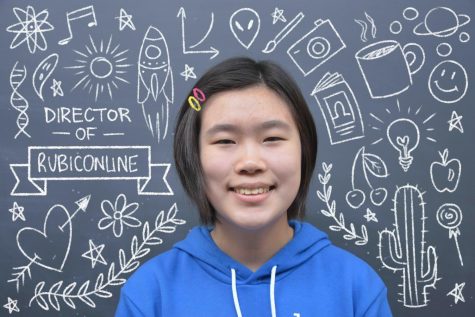 Melissa Nie, Director of RubicOnline
Melissa Nie is the Director of RubicOnline. This is her fourth year on staff. Melissa believes that everyone has a story to tell, and high school journalism...