[ALBUM REVIEW] mxmtoon captures nostalgic view of love and adolescence
With over 3 million monthly listeners on Spotify, 19-year-old Oakland artist mxmtoon (pronounced em-ex-em-toon) is making waves in the pop sphere.
Expressing a genuine and loveable personality through her collection of humorous short videos on TikTok, mxmtoon's songs offer a glimpse into her experiences with love and heartbreak, her perseverance through difficult times, and a pervading sense of nostalgia.
mxmtoon released her new album, "the masquerade," on Sept. 17. A song on that album, "prom dress," is her second most listened-to piece, according to Spotify. 
"prom dress" captures mxmtoon's uncertainty and loneliness at her senior prom, a night often characterized as an exciting, grand capstone to high school. 
"I'm nearing the end of my fourth year / I feel like I've been lacking, crying too many tears / Everyone seemed to say it was so great / But did I miss out? Was it a huge mistake?" she sings.
"
I'm nearing the end of my fourth year / I feel like I've been lacking, crying too many tears."
— mxmtoon
Clearly, she is not alone in her feelings. The music video for "prom dress" has over 4 million views and the comments are filled with people relating to her lyrics, regardless of who they are and if they have even had prom yet.
Another notable song on "the masquerade" album include "dream of you," describing a past relationship that still haunts her subconscious. In slow, calm tones, she shares her emotional reaction to seeing her past lover again. 
By the end of the song, mxmtoon reaches closure, singing, "And I still think about you sometimes / Pondering what it could've been / But I would never trade the time we had / For all of that was a win."
Another unique aspect of mxmtoon's content is that she provides acoustic versions of most of her songs—"the masquerade" has a second side that is just acoustic—and she also uploads ukulele tutorials for her listeners who want to experiment with her songs themselves.
The rest of the pieces on "the masquerade" are definitely worth a listen. Find them on any music streaming platform, like Spotify or YouTube.
mxmtoon will be performing live with Chloe Moriondo at the Amsterdam Bar & Hall in St. Paul on Oct. 25 at 6 p.m.
Leave a Comment
About the Contributor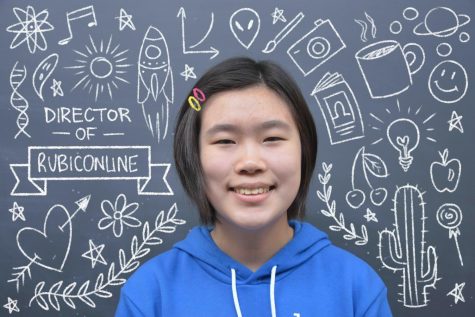 Melissa Nie, Director of RubicOnline
Melissa Nie is the Director of RubicOnline. This is her fourth year on staff. Melissa believes that everyone has a story to tell, and high school journalism...