[ARTIST PROFILE] Lang creates versatile portraiture with acrylics
For senior Muriel Lang, art provides a creative contrast to her academics and an expressive form of freedom. She generally steers towards positive feelings and beauty in order to make herself and her audience feel good.
"Being an artist means that I have something that I can spend my time on that is more creative and not academic. I enjoy it because I can use my skills to create things that are beautiful and that make me happy. I'm passionate about art because I get to express myself. I'm free to create anything that I want to… But, I like my art to evoke happiness because I don't want to make art that makes people sad," Lang said.
Lang said that support from others as she grew helped her feel like her passion for creating art was valid. Without the help from others, she would not be where she is today.
"I always liked drawing as a child because I was often encouraged by others, and that made me feel like this is something I should spend time on. It's important for young people to feel like they have validation from adults because without being validated by my art teachers, I would probably not have been as interested," she said.
Lately, Lang finds herself using mostly acrylics and charcoal; however, she prefers acrylics because charcoal is messy. In her future, Lang hopes to use oil paints and plans on educating herself on the craft.
"I love acrylic because you can layer and layer and because it creates a very versatile composition," she said.
With a specific style of bold colors and small strokes, Lang is able to add energy to her pieces. She uses this form of abstraction commonly in otherwise realistic looking artwork.
"I like to use lots of colors and not just stick to a couple. I like to have every color on the page. For my subjects, I like portraits because rather than creating emotion out of nothing I can use the subject's own emotion and create art from that. They are realistic in their dimensions, but the details and colors are abstract… What sets me apart is all of the colors that I use and I use a lot of small strokes. I think I have a professional looking style," she said.
Lang is currently taking Honors Art Seminar and will have Semester I work on display in the Drake Gallery in January.
Leave a Comment
About the Contributor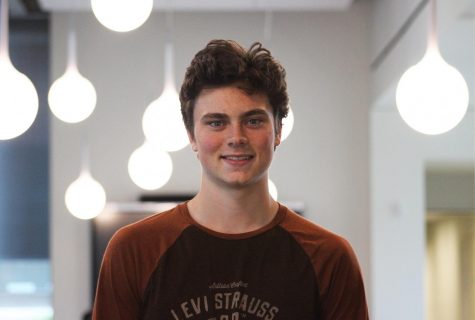 Jasper Green, In-Depth Editor
Jasper Green is the In-Depth Editor for the 2018-2019 season of The Rubicon, and it is his fourth year on staff. Green believes in the power of sharing...