War hits close to home for sophomore Boraan Abdulkarim
While the Syrian conflict provides many students with a topic for intellectual discussion and debate, it impacts others on a much more personal level. Sophomore Boraan Abdulkarim has family in the city of Lattakia, a major port and manufacturing center in northern Syria that has undergone shelling by the Syrian navy over the course of the past two years.
"My paternal grandparents, three aunts, and cousins all live in Syria," Abdulkarim said. She talks with them over the phone every weekend, but the connection is tenuous at best. "Sometimes the phone lines are down, so it's kind of nerve racking because we don't know if they're okay or not. Also, we can't really talk openly with them about sensitive topics, because the phone lines are tapped," she said.
Abdulkarim's family reached Lonna Mouraya, a family friend also from Lattakia via email. While Mouraya has stayed in Syria for the duration of the conflict, many of her acquaintances have left the country.
"I have a few friends left in Syria but a lot of them have left to Lebanon. They come frequently to visit," Mouraya said.
She, however, has no intention of leaving. "I have only thought to leave temporarily to visit my family in the USA or to go to Mecca but I would like to stay in my home." Although Lattakia has not remained untouched by fighting, Mouraya said that "we are much luckier than the other areas of Syria."
There have, however, been a few near misses. Abdulkarim related a recent instance in which a family member narrowly avoided an attack that destroyed his workplace: "My aunt's husband had his car parked at work one day, and instead of driving home, he decided to walk the short distance and come back for the car the next day. This simple choice saved his life, because when he came back the next day, the building in which his office is and his car was parked, had been destroyed, and he was so lucky not to have been there at the time."
"Life has changed since the start of the war. As I said before, we are luckier than most people. There are multiple checkpoints near my house, things are expensive, it is not safe to go out at night; people are depressed," Mouraya said.
Interview with Lonna Mouraya and translation courtesy of Boraan Abdulkarim.
Leave a Comment
About the Contributor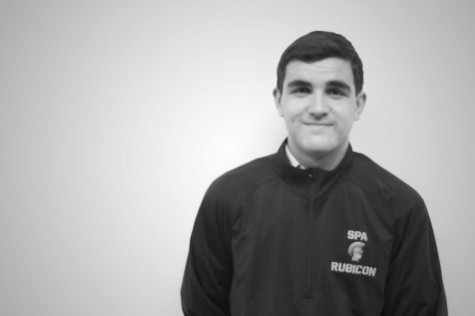 Thomas Toghramadjian, Columns Editor
Thomas Toghramadjian is a senior at St. Paul Academy and Summit School. He is currently in his fourth year on The Rubicon's staff, in the position of Columns...