Walz adds new restrictions to stem COVID-19 rise
On Wednesday evening, Governor Tim Walz held a press conference to announce new restrictions on restaurants, bars and gyms. Not only will these facilities be closed, but adult and youth sports teams are also suspended for at least one month. This includes sports practices and games for Saint Paul Academy and Summit School. These restrictions are being put in place to further combat the spread of the COVID-19 virus. As of Thursday, the Minnesota Department of Heath shows there are over 240,000 cases in the state and the rate of number of cases per 100,000 people is significantly rising. In addition to this, the state's hospitalization rate is also increasing, meaning there is less space for sick patients in hospitals and medical facilities. Minnesota is now in the top 10 states in infection rate per capita.
In light of this news, SPA Athletic Director Ken McNish sent out a note to students and parents regarding the future plan of SPA's winter athletics. In his note, McNish said, "As you all are aware, Governor Walz has hit the pause button on all athletics for the foreseeable future […] While some may be relieved and others heavily disappointed, we can all agree the drastic increase in COVID cases is quite concerning. Regardless of where you land, know that your coaches and I are here to help you through the pause and once we get back." McNish highlighted the importance of student-athletes staying safe and smart during this one month break in hopes of a winter season continuing. McNish said, "I want to emphasize that we will still have a season. Now is the time to remember why there is a pause in the season. We need you all to use good judgment and make good decisions that will not threaten the season for you or your team."
"
I'm trying to hold onto a positive mindset and the great team environment that Nordic has, to make the most of this winter season"
— senior Sara Browne
Although the Minnesota State High School League hasn't released a start date for winter athletics, many students have already started preparing for the season. This news puts a dent in a lot of athletic plans students had for their individual seasons.
Senior captain of the Nordic Ski team, Sara Browne, said, "I feel lucky that the Nordic team got to squeeze in some captain's practice before the lockdown. I'm also definitely disappointed because now our season is very uncertain, though I completely understand the precautions being taken about sports." Browne added, "I'm trying to hold onto a positive mindset and the great team environment that Nordic has, to make the most of this winter season."
Senior captain of the Girls Varsity Basketball team, Rashmi Raveendran, shares their plan for the one month athletics break. Raveendran said, "Although it will be hard to not be in the gym, [my co-captain] and I have plans for leading virtual captains practices and we'll continue to think about possible team bonding things we can do."
Students and coaches across the state are adjusting to the changing plans and new guidelines together. Although this winter athletics season isn't what people expected or wanted, these restrictions are the new reality for everyone in the state.
Leave a Comment
About the Writer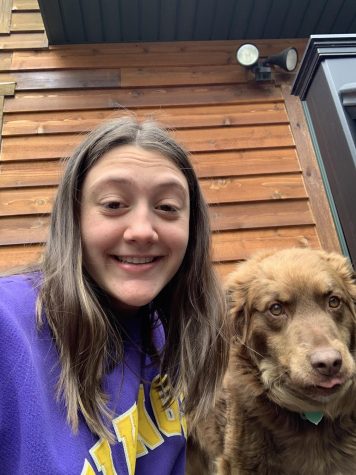 Annika Rock, News Editor
Annika Rock is a News Editor at RubicOnline. This is her second year on staff. During quarantine, she has been taken daily walks around her neighborhood...