[TRACK BREAKDOWN] The 1975 push boundaries, finding a mixture of hits and misses
For fans of the 1975's previous albums, don't go into Notes On A Conditional Form expecting the same pop-rock blend. The band's fourth album, and most ambitious project yet, NOACF is closest to a playlist, with several different genres making up the massive 22-song tracklist, from electronica to emo-country. Most of the songs, especially the experimental ones, are some of the band's best, but at times the numerous interludes and instrumental-only songs feel like filler. Nonetheless, the album is an impressive amalgamation of different genres and styles for the 1975 who seem to be making whatever kinds of music they want, in the best way possible.
After pushing back the release date, originally Feb. 21 of this year, several times, the Manchester-based pop-rock band finally released Notes on May 22nd. Their last album, A Brief Inquiry Into Online Relationships was their most critically acclaimed yet. It was praised for being "genre-melding" and "painfully modern and classic-sounding all at the same time." Notes, on the other hand, has been a mixed bag. It earned an 8.0 on Pitchfork which, albeit less than the 8.5 ABIIOR earned, is a very good score for Pitchfork. Rolling Stone, on the other hand, had the same critique as many others; the album is just too long, losing purpose as it gets lost in its massive tracklist.
The 1975
It was a bit of a shock for fans when the 1975 released Notes' intro song 10 months ago, and it didn't have the same lyrics that have introduced each of their albums thus far. Instead, the song features a monologue by Greta Thunberg, the 17-year-old Swedish activist, about the critical state of our environment and what we need to do to change that.  Thunberg's monologue earns its lengthy runtime as it is impressive and gripping, introducing the album perfectly.
"
Right off the bat, 'People,' the lead single from the album, is unlike anything the 1975 have done before."
People
Right off the bat, "People," the lead single from the album, is unlike anything the 1975 have done before. Frontman Matty Healy scream-sings the lyrics "Wake up, wake up, wake up / It's Monday morning and we've only got a thousand of them left," addressing the statement from the UN that we only have 12 years left if we don't work to improve the state of the environment. It's cool to hear the band try their hand at punk-rock, and the song juxtaposes nicely against Thunberg's calm and collected delivery in the album's introduction.
The End (Music for Cars)
And we've officially made it to the first instrumental track on the album. This one is a beautiful track, though it's admittedly weird hearing an interlude this early in the album, especially when it's an orchestral piece coming after a track like "People." It does a good job of bridging the gap between "People" and the next track, "Frail State of Mind."
Frail State of Mind
This track, the second single, is very reminiscent of TOOTIMETOOTIMETOOTIME off of ABIIOR, but with less structure. The glitchy, electronic dance beat combined with smooth production and vocals from Healy, blend to create a great track.
Streaming
Streaming, aka instrumental track number two, is another very pretty orchestral track. This one is short, at only 1:33, and runs into "The Birthday Party" perfectly.
The Birthday Party
The album's fourth single, complete with a creepy animated music video, "The Birthday Party" is a relaxed but beautiful track. It's almost similar to the band's older songs "Nana" and "Be My Mistake" but more upbeat and with a little bit of country. In Healy's own words, the song is about "the interesting social minutiae of house parties." The lyrics detail interactions at parties as well as Healy's struggles with addiction.
Yeah I Know
Another nice glitchy-electronic track. This one's not quite as good as "Frail State of Mind," but it's very good nonetheless. This one is an example of a song that feels like an interlude, but stands very well on its own.
Then Because She Goes
"Then Because She Goes" details Healy's pain at having to leave a lover. The dreamy vocals and upbeat nature make it sound the closest to the band's old music thus far on the album. The song was inspired by shoegaze bands like My Bloody Valentine as Healy said he loves pop songs that "sound like they're drowning." The song isn't much of a standout on the album, but it's a nice moment.
Jesus Christ 2005 God Bless America
Don't let the title of this song deter you, as it's one of the best songs on the album. Phoebe Bridgers' verse and background vocals are stunning, and her voice compliments Healy's very nicely. The song covers themes of religion and sexuality. The simplistic instrumental, just an acoustic guitar and some distant horns, allows for Healy and Bridgers' vocals to shine.
Roadkill
"Roadkill" is when the band really dives into country influence. As fans flooded the 1975's sub on Reddit with their thoughts on the album, this track was mentioned by many as being an early favorite. On the other hand, the track has also been very controversial because of Healy's use of the f-slur. While Healy has left his sexuality ambiguous, many have questioned whether or not he should be using the word. The song is about life on tour and the difficulties that come with it. Overall, it's interesting to hear Healy's take on tour life, but the track leaves something to be desired.
Me & You Together Song
This song is about falling in love with a friend who doesn't feel the same way. Sonically, it's very similar to the band's first album and EPs, but the lyrics, very earnest and positive, are a bit different than their usual lyrical content. It's a sweet track, but it definitely isn't one of the stand-out tracks on the album.
I Think There's Something You Should Know
This track features another glitchy-electronic beat with a piano melody. In Healy's own words "[the song is] explicitly about impostor syndrome, depression, that kind of a sense of isolation."
Nothing Revealed/Everything Denied
"Nothing Revealed/Everything Denied" begins with a jazzy piano melody reminiscent of "Sincerity is Scary," soon a chorus of vocals comes in adding a gospel feel, then all of a sudden the song takes another turn as Healy begins a rap verse. While the rapping leaves something to be desired especially when the vocal distortion becomes more of a distraction than an addition to the song, the song as a whole is beautiful. The lyrics are about self-reflection with the first line "I never fucked in a car, I was lying" revealing that the opening lines to the band's very successful single off of ABIIOR "Love It If We Made It" were false. Overall, this is a really nice tune and will probably be one of the more successful non-single tracks.
Tonight (I Wish I Was Your Boy)
There's more piano at the beginning of this track during the intro, which then transitions to a reggae-inspired beat. The song samples "Just My Imagination" by The Temptations, but was inspired by many artists and genres. "It reminds me of all the kind of proper pop music that I grew up listening to, like Backstreet Boys. And it's like an ode to early Max Martin, late-'90s pop," Healy said.
Shiny Collarbone
Some of the tracks on this album have been OK, a lot have been good, a few have been great. "Shiny Collarbone" undoubtedly falls in the latter category. The vocals, by Jamaican dancehall musician Cutty Ranks, were originally supposed to be a sample, but when the band spoke to him to clear the sample, he re-recorded it for them. "A lot of reggae dancehall artists' vocals are just amazing to sample because of what they actually just consist of and the tone of the vocal… Then we had to actualize [the sample] and make sure we could use it. We reached out, and it was cool — he was happy to rerecord what we wanted, which was totally great," drummer George Daniel said in an interview with Paper Magazine. Daniel was one of the masterminds behind the album's production, along with Healy. Overall, this song is one of the gems on the album. A result of the band successfully exploring different genres.
If You're Too Shy (Let Me Know)
This song sounds like it's straight out of either the 1975's self-titled album or their sophomore album I Like It When You Sleep, for You Are So Beautiful yet So Unaware of It, it's ridiculous. The instrumental is phenomenal: 80s-Esque dreamy guitar, bouncy drums, and a nice saxophone solo towards the end. "If You're Too Shy (Let Me Know)" is the 1975's highest-charting single to date in the UK, peaking at number 14. This makes sense considering the song is nostalgic for old fans, and the pop-rock vibes make it accessible for people who are new to the 1975.
Playing on My Mind
"Playing on My Mind" is a nice chill track, but nothing particularly special especially coming after "Shiny Collarbone" and "If You're Too Shy (Let Me Know)." It's a simple but pretty song with acoustic guitar and background vocals from Phoebe Bridgers.
Having No Head
Another electronic instrumental track, "Having No Head" is the longest track on the album coming in at 6:04. It's a pretty song, but coming this late in a record this long, it feels a bit unnecessary and boring especially with there being several other electronic instrumental songs already.
What Should I Say
This track has another really nice house-inspired instrumental. Healy revealed the song was originally going to be on ABIIOR, but they couldn't get it right in time. The song features distorted vocals from Healy. It's a nice but forgetful track, as it doesn't add much to the album that hasn't already been provided by other, better, tracks like "Yeah I Know" and "Shiny Collarbone."
Bagsy Not in Net
This song is about wanting to die with your partner. It's short but sweet, with another smooth beat made by Daniels.
Don't Worry
The biggest tear-jerker on the album, "Don't Worry" is a sweet tune, with a beautiful piano instrumental, and heartfelt lyrics. The song features vocals from Healy and his father Tim Healy. "My dad wrote that song in 1990 or something. It was kind of the first song that I remember being really familiar with. This record became an investigation into our history, like musically and personally," Healy said in an interview with Paper Magazine.
Guys
The closing track, "Guys" is the album's seventh single. It's a heartfelt tribute from Healy to his bandmates. "It's one for the homies, you know? I wanted to write a love-song for friends. People don't have that very much. I love that idea," Healy said in a video for Pitchfork. It leaves the album with a perfect sense of completion, as Healy reflects on his time with the band, and all the good memories they've made.
While Notes On A Conditional Form occasionally feels lengthy when instrumentals become a bit too frequent, overall the album is an impressive musical journey as the 1975 try their hand in a number of different genres, and, for the most part, succeed.
Rating:★★★★☆
Leave a Comment
About the Contributor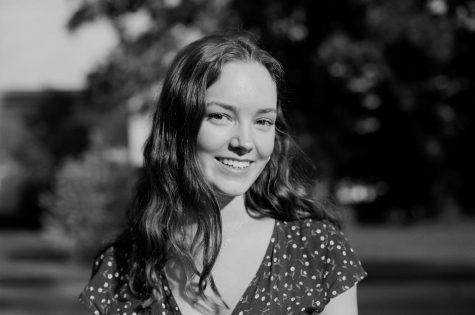 Liv Larsen, Feature Editor
Liv Larsen is a Feature editor on RubicOnline. This is her fourth year on staff. She has been staying busy during the pandemic by watching (too many) movies,...